organization profile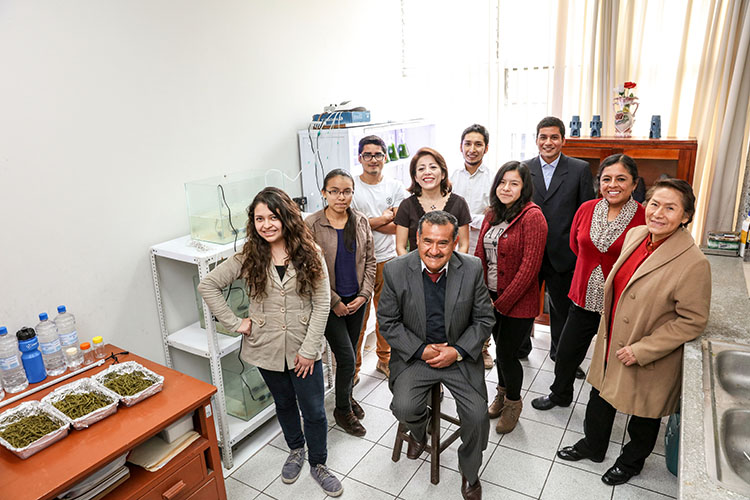 La creación del Grupo de Investigación Acuicultura y Nutrición de Organismos Acuáticos pretende generar investigación aplicada orientada a las necesidades del sector acuícola nacional y apoyar la formación de estudiantes de pregrado y posgrado en competencias básicas de producción animal y acuicultura. De igual manera hacer énfasis en estudios sobre el manejo de sistemas de producción controlado de peces y crustáceos de ambiente continental y marino, y sistemas de nutrición y alimentación de los mismos, para entender la biología, fisiología metabólica, la reproducción y el manejo alimentario de diversas especies. El grupo de investigación cuenta con un grupo docente especializado con el sector académico y productivo nacional para desarrollar sus actividades de investigación, difusión y acompañamiento al productor. Consta de dos laboratorios (Laboratorio de Producción de Alimento vivo y el Laboratorio de Nutrición de Organismos Acuáticos) y un módulo básico( el módulo de Investigaciones en Acuicultura). El Laboratorio de Producción de alimento vivo, equipado con materiales especializados tiene un área para cultivos de: microalgas, de cladóceros, de copépodos y de Artemia , actividades que tienen uso en estudios de enriquecimiento de alimento vivo y técnicas de producción masiva de alimento vivo. Instituciones Públicas con las que se relaciona.- Dirección Regional de Producción Junín (DIREPRO,JUNÍN),Centro Piscícola el Ingenio, Huancayo. Premios Académicos.-Ganadores del Premio al Mérito Científico 2015. Área A. Ciencias Básicas. Dr. Mauro Gilber Mariano Astocondor. Reconocimiento a los Investigadores con Publicaciones Científicas 2014. Área A. Ciencias Básicas. Dr. Mauro Gilber Mariano Astocondor. Viajes Internacionales.- Colombia, Leticia (Amazonas).Mayo 20 al 24 de 2002. PARTICIPACIÓN EN CONGRESO: I Reunión Internacional de Limnología del Alto Amazonas, como Ponente Internacional.
Fingerprint
Dive into the research topics where Acuicultura y nutrición de organismos acuáticos is active. These topic labels come from the works of this organization's members. Together they form a unique fingerprint.
Network
Recent external collaboration on country level. Dive into details by clicking on the dots.


Research output
18

Citations

4

h-Index

7

Article
Komárková, J.,

Montoya, H.

& Komárek, J.,

1 Jan 2016

,

In:

Hydrobiologia.

764

,

1

,

p. 249-258

10 p.

Research output: Contribution to journal › Article › peer-review

Jara-Peña, E.

, Gómez, J.,

Montoya, H.

, Chanco, M.,

Mariano, M.

& Cano, N.,

2014

,

In:

Revista Peruana de Biologia.

21

,

2

,

p. 145-154

10 p.

Research output: Contribution to journal › Article › peer-review