organization profile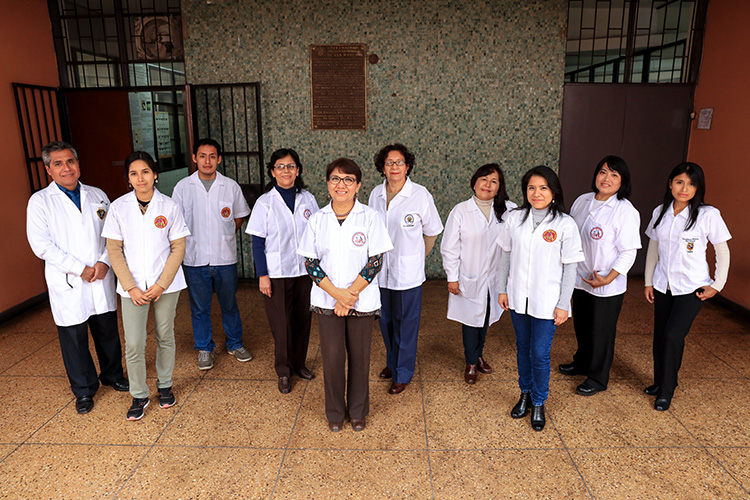 El GIBN está formado por investigadores de amplia experiencia e investigadores que se están iniciando con toda la actitud de perseverar y avanzar en el campo de la investigación en bioquímica y nutrición. Es un equipo multidisciplinario de las carreras de salud, médico, químico farmacéuticos, tecnólogos médicos, nutricionista, biólogos. Contamos con investigadores reconocidos en REGINA (CONCYTEC). La investigación que desarrolla se encuentra dentro de los programas que la UNMSM y la Facultad de Medicina han planteado como prioritarios, corresponden a los programas de Biodiversidad en Salud (B.1.3.2) y en las tres líneas del programa Alimentación y Nutrición (B.1.5.1, B.1.5.2 y B.1.5.3) principalmente. El laboratorio principal donde se desarrollan los trabajos de investigación es el laboratorio "Marino Villavicencio Nuñez" (III-2) usándose además toda la infraestructura que dispone el Instituto de Investigación de Bioquímica y Nutrición. Este laboratorio recibe a tesistas de pre y posgrado, así como a estudiantes de pregrado que se inician en la investigación y estudiantes de posgrado de la maestría en bioquímica, quienes realizan prácticas formativas. Dentro de nuestra trayectoria, es preciso mencionar que hemos recibido tesistas de la Pontificia Universidad Católica, de la Universidad San Cristóbal de Huamanga, de la Universidad Nacional San Antonio Abad del Cusco.
Fingerprint
Dive into the research topics where Alimentos nativos, recursos naturales y metabolismo oxidativo is active. These topic labels come from the works of this organization's members. Together they form a unique fingerprint.
Network
Recent external collaboration on country level. Dive into details by clicking on the dots.


Navarro-Valdez, K., Capillo-Herrera, N.,

Calixto-Cotos, M. R.

& Santisteban-Rojas, O. P.,

Dec 2020

,

In:

Scientia Agropecuaria.

11

,

4

,

p. 547-554

8 p.

Research output: Contribution to journal › Article › peer-review

Calixto Cotos, M. R.

, Hameed, I. H., Escajadillo, S. B. E., Llica, E. R., Figueroa, M. G. R. &

Olivera Garcia, J. E.

,

2020

,

In:

Research Journal of Pharmacy and Technology.

13

,

5

,

p. 2192-2198

7 p.

Research output: Contribution to journal › Article › peer-review

Pella, R.,

Suárez-Cunza, S.

, Orihuela, P., Escudero, F., Pérez, Y., García, M., Zorrilla, I., Berrío, P. & Romero, S.,

2020

,

In:

Jornal Brasileiro de Reproducao Assistida.

24

,

3

,

p. 296-301

6 p.

Research output: Contribution to journal › Article › peer-review