organization profile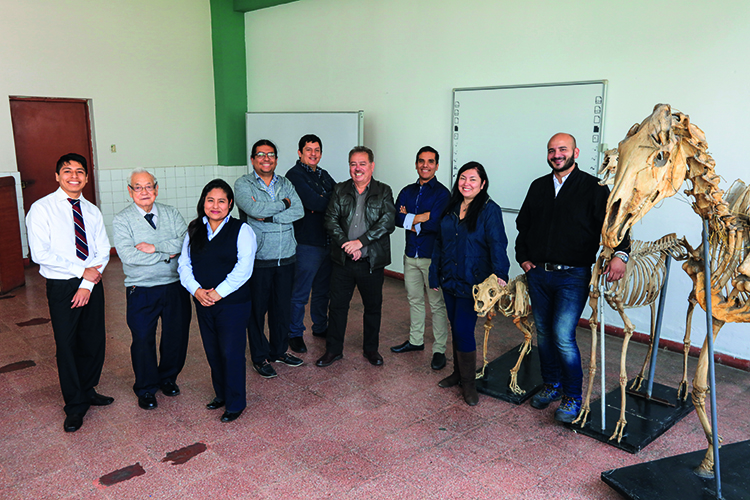 El grupo de investigación ANATOMIA VETERINARIA está liderado por el laboratorio de anatomía animal y fauna silvestre FMV UNMSM, viene desarrollando proyectos de investigación y tesis en la anatomía de la alpaca desde el año 1967, así como publicaciones en RIVEP. En el 2014 fue favorecido con el financiamiento del convenio 097-2014-FONDECYT-DE sobre el estudio del páncreas de la alpaca liderado por la MV. Miluska Navarrete, calificada como Investigador en REGINA. La mayoría de participantes del grupo son docentes universitarios que hacen investigación en la línea de anatomía animal macroscópica y microscópica y tesistas del laboratorio. El grupo de investigación cuenta con el Msc MV Alberto Sato Sato, profesor emérito de la UNMSM. La transferencia de conocimiento y formación de nuevos y mejores investigadores se complementa con el personal docente de la UNAMBA de Apurímac y la facultad de Ciencias Veterinarias de la UCSUR así como la participación del Dr Marcelo Ghezzi de la Facultad de Ciencias Veterinarias UNCPBA, veterinario argentino especializado en la anatomía de la llama. Actualmente el grupo de investigación forma parte del convenio 025-2016-FONDECYT "Círculo de investigación en la morfogénesis de los órganos linfoides e inmunitarios de la alpaca" financiado por FONDECYT.
Fingerprint
Dive into the research topics where Anatomía veterinaria is active. These topic labels come from the works of this organization's members. Together they form a unique fingerprint.
Network
Recent external collaboration on country level. Dive into details by clicking on the dots.


Research output
16

Citations

2

h-Index

18

Article
Rose Barreto, R., Alberto Sato, S., Ghezzi, M. D., Francisco Santos, R., Alexander Chávez, R. &

Miluska Navarrete, Z.

,

1 Jan 2019

,

In:

Revista de Investigaciones Veterinarias del Peru.

p. 14-25

12 p.

Research output: Contribution to journal › Article › peer-review

Rose Barreto, R., Alberto Sato, S., Ghezzi, M. D., Francisco Santos, R., Alexander Chávez, R. &

Miluska Navarrete, Z.

,

2019

,

In:

Revista de Investigaciones Veterinarias del Peru.

30

,

1

,

p. 14-25

12 p.

Research output: Contribution to journal › Article › peer-review