organization profile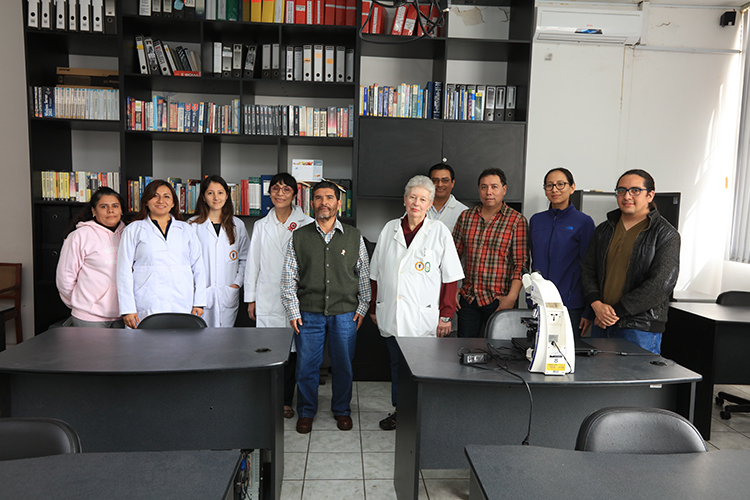 El ateneo propuesto combina dos grupos ya establecidos. Uno, el CWGP fue formado en 1988, y es el grupo internacional, multidisciplinario y multi-institucional que elimino la T. solium de Tumbes. El CWGP tiene experiencia en vacunas recombinantes y desarrollo de programas de control y eliminacion. El otro, FARVET y FMV-UNMSM, ha desarrollado vacunas recombinantes comerciales contra virus que afectan a la avicultura peruana. Se propone consolidar el ateneo y continuar sostenidamente a futuro.
Fingerprint
Dive into the research topics where Ateneo abocado a responder amenazas y oportunidades del sector pecuario is active. These topic labels come from the works of this organization's members. Together they form a unique fingerprint.
Network
Recent external collaboration on country level. Dive into details by clicking on the dots.


Gomez-Puerta, L. A.

, Muñoz-Leal, S., Labruna, M. B. & Venzal, J. M.,

29 Nov 2020

,

In:

Revista Peruana de Biologia.

27

,

4

,

p. 533-536

4 p.

Research output: Contribution to journal › Article › peer-review

Gomez-Puerta, L. A.

,

Gonzalez, A. E.

, Vargas-Calla, A.,

Lopez-Urbina, M. T.

, Cama, V. & Xiao, L.,

1 Jan 2020

,

In:

Parasitology Research.

p. 243-248

6 p.

Research output: Contribution to journal › Article › peer-review