organization profile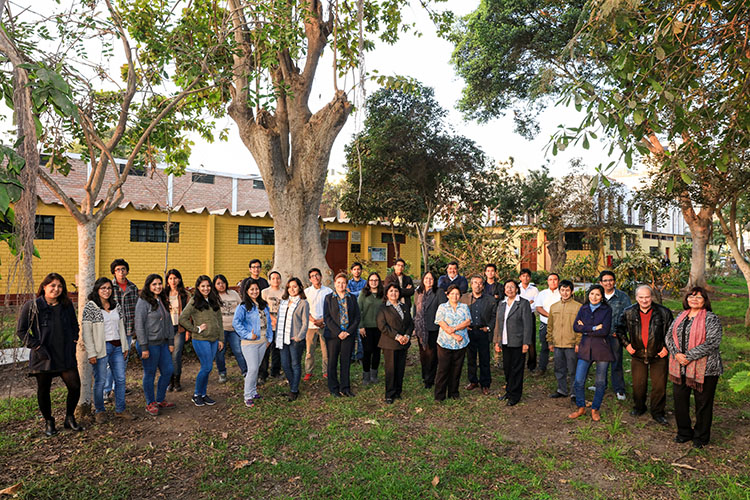 BIOECONE se forma de la integración de investigadores que a lo largo del tiempo han trabajado de manera sinérgica en proyectos de investigación nacionales e internacionales. Especialistas en investigaciones genéticas, en microscopía, anatomía de plantas, nutrición, ecología y en especial sistemática y taxonomía de diferentes taxa, se unen en BIOECONE para en base a una visión transdiciplinaria, enfrentar el reto de entender y manejar la megadiversidad biológica del Perú en el escenario actual del cambio climático global. Nuestros miembros han coordinado con éxito numerosos proyectos de investigación internacionales (PALMS), nacionales (CONCYTEC, INCAGRO) e institucionales (VRIP-UNMSM), así como publicando continuamente los resultados de sus investigaciones en revistas indizadas, libros (editoriales nacionales e internacionales), así como presentándolos en Congresos en todo el mundo. Algunos de los miembros son Expertos CITES reconocidos por el MINAM y tienen una relación de asesoramiento con este ministerio, con el SERFOR (MINAGRI), SERNANP entre otras. Otras de las fortalezas es la constante colaboración con investigadores de otras instituciones nacionales e internacionales, así como con el empresariado nacional (AGROKASA, RAIN FOREST, COSMO, LAP). Enfrentamos el reto de generar conocimiento básico y aplicado acompañados de un numeroso grupo de tesistas y estudiantes de pre y posgrado.
Fingerprint
Dive into the research topics where Biodiversidad de ecosistemas neotropicales is active. These topic labels come from the works of this organization's members. Together they form a unique fingerprint.
Network
Recent external collaboration on country level. Dive into details by clicking on the dots.


Pulido, V.,

Salinas, L.

, Del Pino, J. &

Arana, C.

,

Feb 2021

,

In:

Revista Peruana de Biologia.

28

,

1

, e19242.

Research output: Contribution to journal › Article › peer-review

Morán-López, T., Espíndola, W. D., Vizzachero, B. S., Fontanella, A.,

Salinas, L.

,

Arana, C.

, Amico, G., Pizo, M. A., Carlo, T. A. & Morales, J. M.,

1 Feb 2020

,

In:

Ecology Letters.

23

,

2

,

p. 348-358

11 p.

Research output: Contribution to journal › Letter › peer-review

Ellis, L. T., Afonina, O. M., Atwood, J. J., Bednarek-Ochyra, H., Burghardt, M., Dragićević, S., Vuksanović, S., Espinoza-Prieto, B.,

Opisso, J.

, Goga, M., Bačkor, M., Graulach, A., Hugonnot, V., Koroleva, N. E., Chandini, V. K., Manju, C. N., Mufeed, B., Natcheva, R., Norhazrina, N., Syazwana, N.

& 16 others

, ,

2 Apr 2020

,

In:

Journal of Bryology.

42

,

2

,

p. 195-208

14 p.

Research output: Contribution to journal › Article › peer-review