organization profile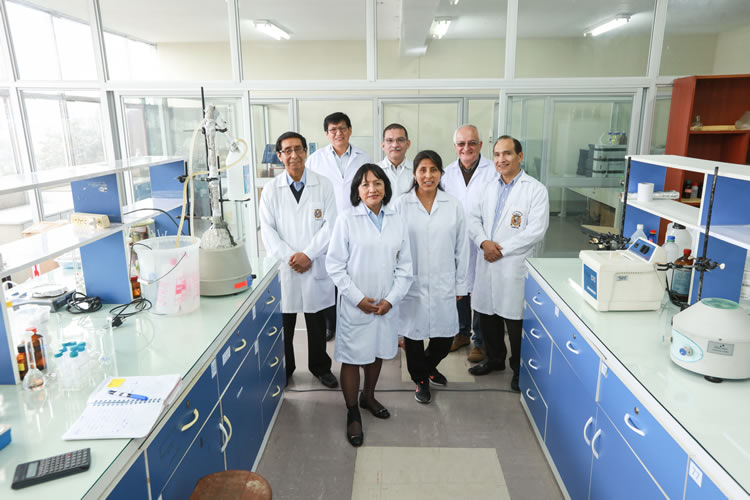 El grupo de Biomateriales y Nanotecnología es un grupo multidisciplinario, que incluye docentes de Química, Física, Biología y Medicina, junto con un especialista en instrumentación, del IPEN. Cuatro de los integrantes de este grupo somos responsables de igual número de proyectos de Innovate Perú, además tenemos dos patentes de invención. Esto es un buen indicativo que nuestro GI posee personal altamente calificado, ambientes de laboratorio y equipamiento adecuado para profundizar en las líneas de investigación definidas, que investiga no solo en aspectos básicos sino que busca aplicaciones prácticas y somos capaces de identificar las novedades tecnológicas desarrolladas como producto de nuestras investigaciones y de protegerlas adecuadamente. Igualmente, somos asesores de varios tesistas en pre y posgrado. La sola composición del GI muestra la orientación del grupo: generación y caracterización de nuevos materiales conteniendo productos naturales con actividad biológica y/o farmacológica. En la preparación de estos biomateriales se hace uso intensivo de la nanotecnología.
Fingerprint
Dive into the research topics where Biomateriales y productos naturales: química y aplicaciones is active. These topic labels come from the works of this organization's members. Together they form a unique fingerprint.
Network
Recent external collaboration on country level. Dive into details by clicking on the dots.


Izarra-Rojas, K. V., Rojas-Palomino, N., Gonzales-Medrano, J. L., Minaya-Gómez, G., Berrocal-Huallpa, A., Santiago-Contreras, J. &

León-Quispe, J.

,

1 Jul 2020

,

In:

Revista Peruana de Medicina de Experimental y Salud Publica.

37

,

3

,

p. 462-470

9 p.

Research output: Contribution to journal › Article › peer-review

Cisneros Moscol, J., Caro Castro, J., Mateo Tuesta, C. &

León Quispe, J.

,

Jul 2020

,

In:

Scientia Agropecuaria.

11

,

3

,

p. 391-398

8 p.

Research output: Contribution to journal › Article › peer-review