organization profile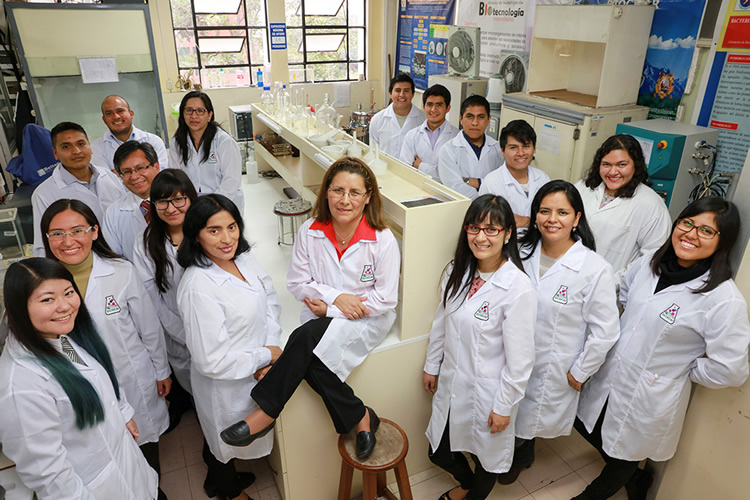 Nuestro equipo de investigación participa en actividades de investigación desde el año 2000 teniendo como sede el Laboratorio de Biología Molecular de la Facultad de Farmacia y Bioquímica. Por motivos de reorganización institucional hemos conformado el Grupo de Investigación "Biotecnología Microbiana y Salud", con la identificación "BIOMIAS", el cual realiza investigaciones multidisciplinarias de alto impacto en biotecnología microbiana y en salud. En biotecnología microbiana, nuestras investigaciones están orientadas al estudio de microorganismos, sus metabolitos y enzimas con potencial interés industrial en los sectores alimentario, farmacéutico, cosmético, energético, ambiental, entre otros. Utilizamos fuentes naturales diversas, contribuyendo con la valorización de la biodiversidad, a la vez que ofrecemos soluciones eficientes y amigables con el ambiente mediante las biotransformaciones y biorrefinerias. En biotecnología en salud, nuestras investigaciones se centran en el diseño y evaluación de nuevas biomoléculas mediante ensayos preclínicos in vitro, así como en el estudio de la variabilidad de respuesta individual a los xenobióticos (fármacos, nutrientes, tóxicos). Nuestros investigadores son especialistas en Biotecnología; Microbiología; Farmacología; Medicina; Ciencia y Tecnología de los Alimentos; Tecnología Bioquímica -Farmacéutica, Bioquímica, Enología, Química, Biología. Además, contamos con asistencia técnica de investigadores nacionales e internacionales; y con la participación activa de tesistas de pre y posgrado.
Fingerprint
Dive into the research topics where Biotecnología microbiana y salud is active. These topic labels come from the works of this organization's members. Together they form a unique fingerprint.
Network
Recent external collaboration on country level. Dive into details by clicking on the dots.


International Immuno-Oncology Biomarker Working Group,

1 Dec 2020

,

In:

npj Breast Cancer.

6

,

1

, 15.

Research output: Contribution to journal › Review article › peer-review

Castañeda, C. A.

, Castillo, M., Rojas-Vilca, J. L., Fuentes, H. & Gómez, H. L.,

1 Oct 2020

,

In:

Revista Peruana de Medicina de Experimental y Salud Publica.

37

,

4

,

p. 611-619

9 p.

Research output: Contribution to journal › Article › peer-review

COLUMBUS Consortium,

May 2020

,

In:

Cancer Research.

80

,

9

,

p. 1893-1901

9 p.

Research output: Contribution to journal › Article › peer-review
21/03/18

1 item of Media coverage

Press/Media