organization profile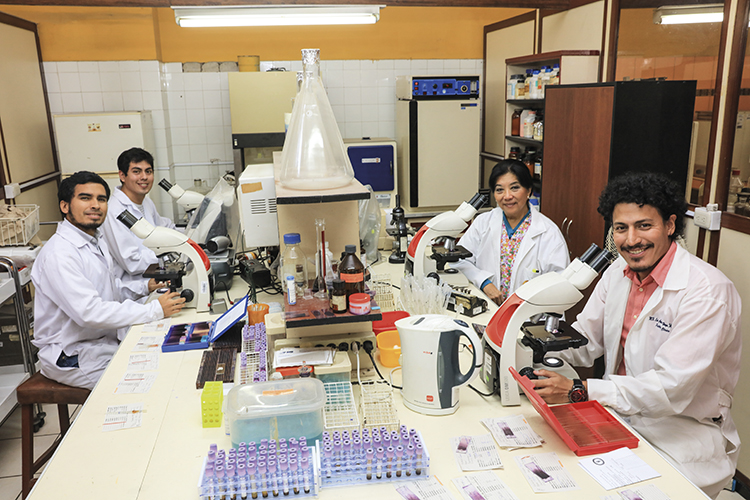 El presente grupo de investigación nació (no formalmente) hace 14 años en el Laboratorio de Patología Clínica Veterinaria de la FMV-UNMSM trabajando en Ehrlichiosis canina y humana, intentando identificar microorganismos causantes de esta enfermedad en Perú. Inicialmente los trabajos fueron realizados en Lima, utilizando técnicas disponibles en nuestro medio (hematología y kits rápidos), pero luego contactando con laboratorios extranjeros e importando "pruebas de oro", tales como inmunofluorescencia. Además se ha trabajado a nivel molecular para conocer las características genotípicas de los agentes identificados en Perú. Desde esa fecha hemos trabajado en Ehrlichiosis y Anaplasmosis (canina y humana), Rickettsiosis canina y actualmente iniciando los estudios de impacto zoonótico en Filariasis. Hemos desarrollado en la UNMSM 6 estudios CON-CON que han permitido elaborar 10 trabajos de tesis (9 de pregrado y 1 de posgrado), así como la publicación de diversos artículos de investigación en revistas nacionales e internacionales. Tenemos una asociación sólida con profesionales de la Escuela de Medicina - PUC (Chile), quienes desarrollan estudios similares en dicho país y desde hace 2 años con docentes de la Universidad de California - Davis (USA), la primera escuela de Medicina Veterinaria a nivel mundial (QS World University Rankings 2017).
Fingerprint
Dive into the research topics where Círculo profesional de investigación en enfermedades zoonóticas transmitidas por vectores del Perú is active. These topic labels come from the works of this organization's members. Together they form a unique fingerprint.
Network
Recent external collaboration on country level. Dive into details by clicking on the dots.


Deysi Masgo, C.,

Luis Hoyos, S.

, Olga Li, E., Luis Gómez, P., Leyla Ramires, V., Grecia Álvarez, M., Miguel Cervantes, S. & Álvaro Vásquez, Y.,

1 Dec 2019

,

In:

Revista de Investigaciones Veterinarias del Peru.

p. 1670-1677

8 p.

Research output: Contribution to journal › Article › peer-review

Mendoza, Y. Q., Li, O. E.,

Hoyos, L. S.

,

Espinoza, J. B.

,

Angulo, P. H.

,

Díaz, D. C.

&

Lázaro, C. D.

,

1 Jan 2018

,

In:

Revista de Investigaciones Veterinarias del Peru.

p. 734-742

9 p.

Research output: Contribution to journal › Article › peer-review

Mendoza, Y. Q., Li, O. E.,

Hoyos, L. S.

,

Espinoza, J. B.

,

Angulo, P. H.

,

Díaz, D. C.

&

Lázaro, C. D.

,

2018

,

In:

Revista de Investigaciones Veterinarias del Peru.

29

,

3

,

p. 734-742

9 p.

Research output: Contribution to journal › Article › peer-review