organization profile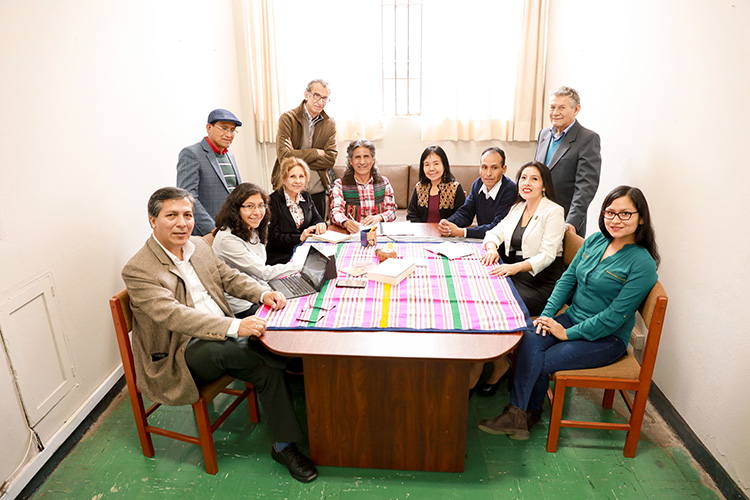 Nuestro GI se propone desarrollar y profundizar investigaciones que partan de la compleja y contradictoria diversidad cultural y las desigualdades en América Latina, en especial, en el área andina y amazónica. Se afirma en el humanismo contemporáneo, en el pensamiento crítico y contribuye a la elaboración de los epistemes del Sur y de Latinoamérica. Entiende la comprensión de las culturas y las producciones discursivas vinculadas a las maneras cómo estas culturas se representan a sí misma, por lo que desarrolla críticamente acercamientos desde la cosmovisión, indaga sobre los pares relacionales (cultura-lengua, cultura-territorio, cultura-estrategias expresivas), establece vínculos con la tradición académica y lecturas comparadas. EILA está conformado como un equipo que ofrece diversas miradas y postula vincular producción académica con nuestra sociedad, con incidencia disciplinar y al mismo tiempo con impacto en el campo educativo y apuesta a una interculturalidad activa. No está demás indicar que el equipo ha contribuido desde sus investigaciones a nuevas lecturas del quehacer cultural del país y América Latina: periodización y horizonte plurales de las culturas, literaturas y culturas regionales, etnopoéticas andinas y amazónicas, valoraciones críticas, tradiciones orales y populares. Así como redes y comunidades académicas que comparten la misma agenda de discusión.
Fingerprint
Dive into the research topics where Discursos, representaciones y estudios interculturales is active. These topic labels come from the works of this organization's members. Together they form a unique fingerprint.
Network
Recent external collaboration on country level. Dive into details by clicking on the dots.


Iraola-Real, I. &

Gonzales-Macavilca, M.

,

Mar 2020

,

EDUNINE 2020 - 4th IEEE World Engineering Education Conference: The Challenges of Education in Engineering, Computing and Technology without Exclusions: Innovation in the Era of the Industrial Revolution 4.0, Proceedings.

da Rocha Brito, C. D. R. & Ciampi, M. M. (eds.).

Institute of Electrical and Electronics Engineers Inc.

, 9149532. (EDUNINE 2020 - 4th IEEE World Engineering Education Conference: The Challenges of Education in Engineering, Computing and Technology without Exclusions: Innovation in the Era of the Industrial Revolution 4.0, Proceedings).

Research output: Chapter in Book/Report/Conference proceeding › Conference contribution › peer-review

Gonzales-Macavilca, M.

& Nolberto-Quispe, L.,

Sep 2019

,

Proceedings of the 2019 International Symposium on Engineering Accreditation and Education, ICACIT 2019.

Institute of Electrical and Electronics Engineers Inc.

, 9130232. (Proceedings of the 2019 International Symposium on Engineering Accreditation and Education, ICACIT 2019).

Research output: Chapter in Book/Report/Conference proceeding › Conference contribution › peer-review