organization profile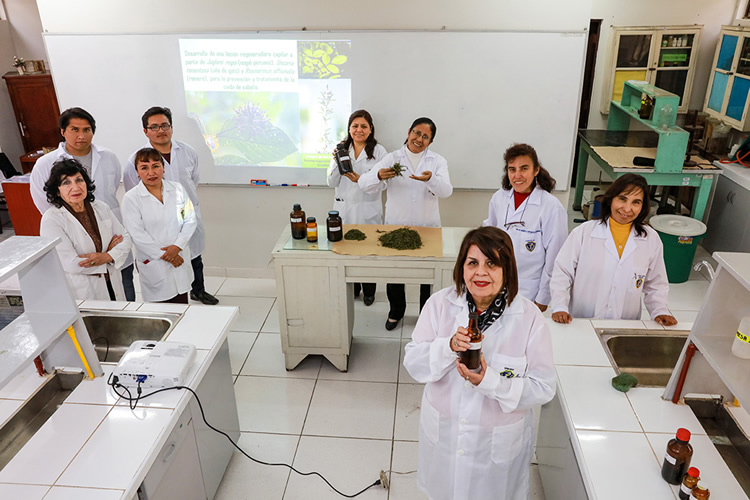 El equipo de investigación multidisciplinario "Farmacognosia y Medicina Tradicional" está formado por docentes, tesistas y estudiantes investigadores de la Facultad de Farmacia y Bioquímica y de otras universidades del país, así como investigadores de otras instituciones reconocidas, con publicaciones científicas en revistas indexadas. Las sinergias y el trabajo en equipo nos compromete a esforzarnos para mejorar la calidad, la eficacia y seguridad en nuestro trabajo, nuestras experiencias profesionales y laborales fortalecerán los trabajos y proyectos de investigación para incrementar el conocimiento en Ciencias Básicas y desarrollar propuestas y alternativas de solución para los problemas de salud, alimento, cosméticos, toxicidad y medio ambiente. Se realizará estudios desde el área botánica, farmacognóstica, farmacológica, cosmética, alimentos, toxicológica y medio ambiente. Los proyectos de investigación serán trabajados desde una perspectiva global e integral para la elaboración de productos con valor agregado a partir de plantas medicinales y alimenticias para las diferentes industrias y sociedad en las distintas áreas establecidas, revalorando los recursos naturales de nuestro país. Todo ello permitirá al estudiante y tesista la culminación satisfactoria de sus tesis e investigaciones que contribuirá con el desarrollo de nuestro país cuidando siempre nuestro medio ambiente.
Fingerprint
Dive into the research topics where Farmacognosia y medicina tradicional is active. These topic labels come from the works of this organization's members. Together they form a unique fingerprint.
Network
Recent external collaboration on country level. Dive into details by clicking on the dots.


de la Cruz, C. V., Islam, M. S., Jugo, T. G., Ruiton, C. F., G-Retuerto Figueroa, M.,

Ramos-Llica, E.

, Gutierrez, A. G. & Elera, S. G.,

1 Jan 2020

,

In:

Journal of Critical Reviews.

p. 453-456

4 p.

Research output: Contribution to journal › Scientific review › peer-review

de la Cruz, C. V., Islam, M. S., Jugo, T. G., Ruiton, C. F.,

G-Retuerto Figueroa, M.

, Ramos-Llica, E., Gutierrez, A. G. & Elera, S. G.,

2020

,

In:

Journal of Critical Reviews.

7

,

1

,

p. 453-456

4 p.

Research output: Contribution to journal › Review article › peer-review

De la Cruz, C. V., Islam, M. S., Raihan, M. K. A., Jugo, T. G., Ruiton, C. F., Figueroa, M. G. R.,

Ramos-Llica, E.

, Gutierrez, A. G. & Elera, S. G.,

1 Feb 2020

,

In:

International Journal of Psychosocial Rehabilitation.

p. 136-146

11 p.

Research output: Contribution to journal › Article › peer-review