organization profile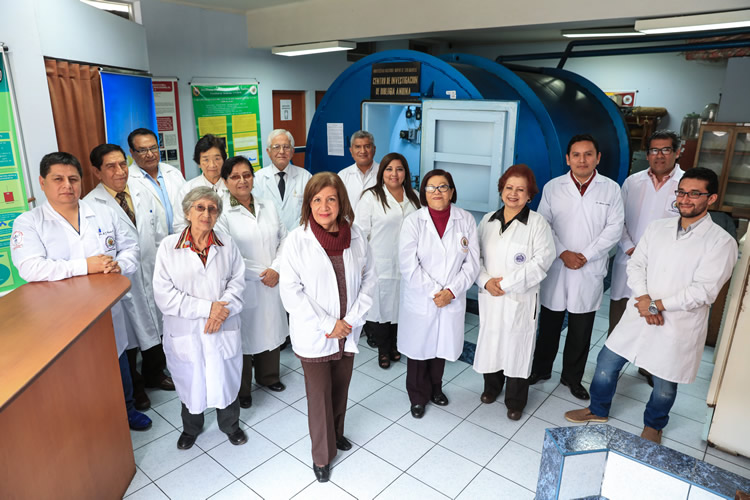 El Grupo de Investigación "FISIOLOGÍA Y MEDICINA EN DIFERENTES ALTITUDES" es un grupo multidisciplinario conformado por Médicos, Biólogos, Químicos Farmacéuticos, Nutricionistas y Obsterices; que vienen realizando proyectos en la línea de investigación de la Fisiología y Fisiopatología de la Altura como Miembros Permanentes, Temporales o Adscritos del Instituto Nacional de Biología Andina. La mayoría de ellos tienen posgrado en Fisiología y ejercen docencia de pre y posgrado en Fisiología Humana en donde imparten sus nuevos conocimientos sobre la Fisiología del Hombre Andino, los cambios fisiológicos de la exposición aguda a la altura, el proceso de aclimatación y adaptación a la altura, otros tienen posgrados en las áreas clínicas de Medicina impartiendo sus conocimientos de las enfermedades propias de la altura: soroche agudo, mal de montaña crónico, edema pulmonar y edema cerebral así como las diferencias en la presentación de ciertas patologías en la altura como la diabetes, hipertensión etc. Otros en los aspectos bioquímicos, metabólicos, nutricionales y reproductivos. A nivel de posgrado la docencia en la Maestría en Fisiología nos ha permitido dirigir tesis en la línea de Fisiología de la Altura. Contamos con publicaciones en conjunto en revistas indexadas y presencia en Congresos Nacionales, Internacionales y Mundiales.
Fingerprint
Dive into the research topics where Fisiología y medicina en diferentes altitudes is active. These topic labels come from the works of this organization's members. Together they form a unique fingerprint.
Research Output
22

Citations

2

h-Index

2

Article
Huamani-Navarro, M., Alegría-Delgado, D.,
López-Sánchez, M.
,
Tarqui-Mamani, C. B.
& Ormeño-Caisafana, L.,
1 Jan 2011
,
In :

Educacion Medica.
p. 235-240
6 p.
Research output: Contribution to journal › Article
Casikar, V.,
Mujica, E.
, Mongelli, M., Aliaga, J., Lopez, N., Smith, C. & Bartholomew, F.,
1 Jul 2010
,
In :

Indian Journal of Clinical Biochemistry.
p. 311-314
4 p.
Research output: Contribution to journal › Article