organization profile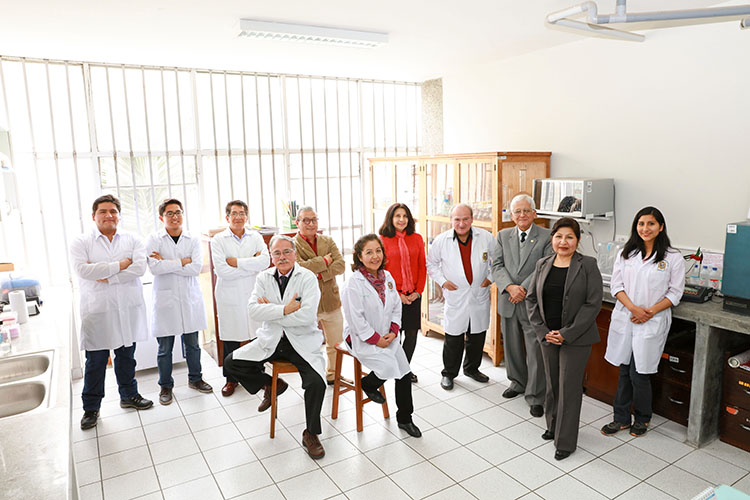 El Grupo de Investigation (GI) que proponemos tiene como núcleo central al Laboratorio de Genética Humana-FCCBB-UNMSM, el mismo que ha servido desde la década del 70 como centro aglutinador de los genetistas sanmarquinos, desde su época estudiantil y al que hoy se incorporan como destacados profesionales de gran trayectoria académica y producción científica. Nos acompañan genetistas de otras universidades peruanas que hoy se encuentran en el extranjero ( APL y MR) y que serán elementos muy importantes para continuar en el desarrollo de la Genética a nivel nacional. Esperamos que el esfuerzo conjunto sea un gran catalizador para lograr los objetivos que nos proponemos y que por el momento ha elegido como tema central a los mamíferos peruanos y sud americanos.
Fingerprint
Dive into the research topics where Genes, cromosomas y genomas de mamíferos is active. These topic labels come from the works of this organization's members. Together they form a unique fingerprint.
Network
Recent external collaboration on country level. Dive into details by clicking on the dots.


Strobl, C., Churchill Cihlar, J., Lagacé, R., Wootton, S., Roth, C., Huber, N., Schnaller, L., Zimmermann, B., Huber, G., Lay Hong, S., Moura-Neto, R., Silva, R., Alshamali, F., Souto, L., Anslinger, K., Egyed, B., Jankova-Ajanovska, R., Casas-Vargas, A., Usaquén, W., Silva, D.

& 10 others

, ,

Sep 2019

,

In:

Forensic Science International: Genetics.

42

,

p. 244-251

8 p.

Research output: Contribution to journal › Article › peer-review

Strobl, C., Churchill Cihlar, J., Lagacé, R., Wootton, S., Roth, C., Huber, N., Schnaller, L., Zimmermann, B., Huber, G., Lay Hong, S., Moura-Neto, R., Silva, R., Alshamali, F., Souto, L., Anslinger, K., Egyed, B., Jankova-Ajanovska, R., Casas-Vargas, A., Usaquén, W., Silva, D.

& 10 others

, ,

1 Sep 2019

,

In:

Forensic Science International: Genetics.

p. 244-251

8 p.

Research output: Contribution to journal › Article › peer-review