organization profile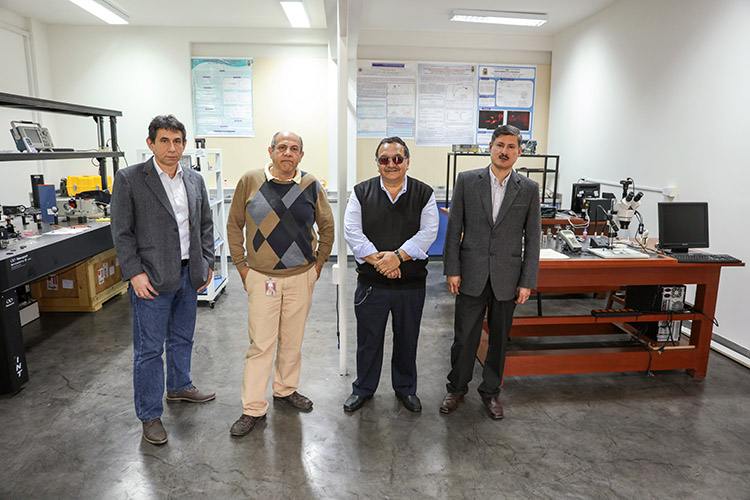 El grupo de Óptica No Lineal fue creado en agosto del 2006 con la creación de su laboratorio en el Instituto de Ciencias Físicas de la Facultad de Ciencias Físicas. Las primeras inversiones en el laboratorio fueron obtenidas a través del primer proyecto multidisciplinario y de proyectos con-con. Estas pequeñas subvenciones, nos permitió realizar algunas adquisiciones de varios dispositivos ópticos, opto mecánicos, electrónicos y computacionales. Estos equipamientos nos permitieron un gran desarrollo a las actividades de investigación para el trabajo de tesis, las cuales fueron realizadas por alumnos de graduación y pos graduación. Todos estos trabajos dieron como resultado cinco tesis de licenciatura y una tesis de maestría en seis años, así como artículos científicos en revistas nacionales. En el 2012, se construyo un prototipo para realizar mediciones de absorbancia y transmitancia en las regiones de 300 a 1000 nm. En el año 2014, nuestro grupo consigue la adjudicación de recursos no reembolsables por S/. 771,900.00, que otorga el programa nacional de innovación para la competitividad y productividad para la ejecución del proyecto de equipamiento científico de laboratorio: "Sistema Óptico para Espectroscopia Lineal y No Lineal". Hasta la fecha el grupo viene trabajando arduamente para culminar este proyecto.
Fingerprint
Dive into the research topics where Grupo de espectroscopia lineal y no lineal para el uso tecnológico de materiales ópticos is active. These topic labels come from the works of this organization's members. Together they form a unique fingerprint.
Network
Recent external collaboration on country level. Dive into details by clicking on the dots.


Fabián-Salvador, J.

, Diez, J. P., Aristizabal, R., Enzo, S. & Arnache, O.,

Dec 2020

,

In:

Archaeometry.

62

,

6

,

p. 1182-1194

13 p.

Research output: Contribution to journal › Article › peer-review

Cesareo, R., Franco Jordan, R., Fernandez, A., Bustamante, A.,

Fabian, J.

, del Pilar Zambrano, S., Azeredo, S., Lopes, R. T., Ingo, G. M., Riccucci, C., Di Carlo, G. & Gigante, G. E.,

1 May 2016

,

In:

X-Ray Spectrometry.

45

,

3

,

p. 138-154

17 p.

Research output: Contribution to journal › Article › peer-review