organization profile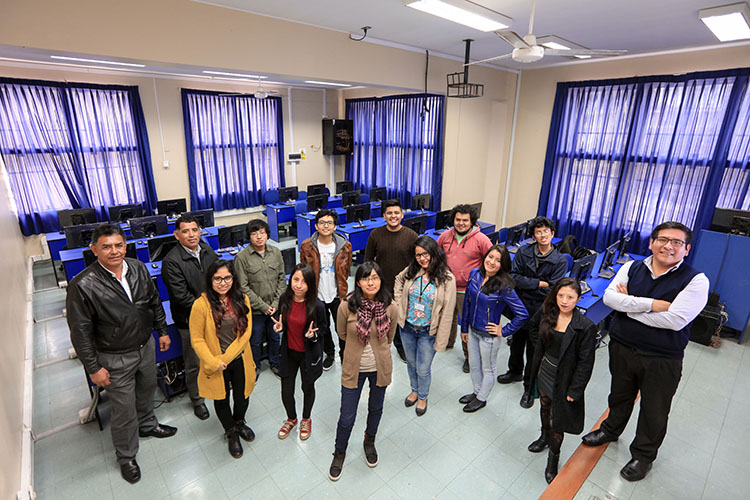 El Grupo de Investigación en Bioinformática y Biología Estructural (anteriormente denominado Grupo de Estudios en Bioinformática Estructural) comienza a desarrollar sus actividades en el año 2016 como parte de una iniciativa estudiantil la cual buscó aglutinar a todos los interesados, tanto docentes como estudiantes, en el empleo de herramientas bioinformáticas para el análisis a nivel estructural de macromoléculas. Producto de esta sinergia, se pudo adiestrar a un conjunto de estudiantes en el desarrollo y aplicación de algoritmos bioinformáticos para el estudio de proteínas de interés biotecnológico. Dichos resultados fueron presentados en diversos eventos a nivel nacional e internacional, así como publicados en revistas indexadas. Como parte de la nueva estructura de investigación en la UNMSM, nuestro Grupo de Investigación decide ampliar sus áreas de estudio e incluir a investigadores externos de Brasil e India, a fin de complementar las predicciones realizadas a nivel computacional y correlacionar sus resultados con experimentos a nivel de la biología estructural. Dicha estrategia de investigación nos permitirá profundizar en el estudio de mecanismos biológicos relevantes a través de diversas aproximaciones in vitro e in silico, así como en la caracterización a nivel estructural de macromoléculas de importancia biotecnológica.
Fingerprint
Dive into the research topics where Grupo de investigación en bioinformática y biología estructural is active. These topic labels come from the works of this organization's members. Together they form a unique fingerprint.
Network
Recent external collaboration on country level. Dive into details by clicking on the dots.


Research output
204

Citations

8

h-Index

16

Article
La Rosa, R.

, Flores-Nuñez, A., Chávez, M., Flores, G., Alcalde, M., Zeña, H., Arieta, L., Valderrama, N., Huerta, C. &

Sandoval, G.

,

2020

,

In:

Acta Botanica Mexicana.

127

,

p. 1-11

11 p.

, 1695.

Research output: Contribution to journal › Article › peer-review

Vivas-Ruiz, D. E.

,

Sandoval, G. A.

, Gonzalez-Kozlova, E., Zarria-Romero, J.,

Lazo, F.

,

Rodríguez, E.

, Magalhães, H. P. B., Chávez-Olortegui, C., Oliveira, L. S., Alvarenga, V. G., Urra, F. A., Toledo, J.,

Yarlequé, A.

, Eble, J. A. & Sanchez, E. F.,

15 Jun 2020

,

In:

International Journal of Biological Macromolecules.

153

,

p. 779-795

17 p.

Research output: Contribution to journal › Article › peer-review

Requena, D., Médico, A., Chacón, R. D., Ramírez, M. &

Marín-Sánchez, O.

,

3 Sep 2020

,

In:

Frontiers in Immunology.

11

, 2008.

Research output: Contribution to journal › Article › peer-review