organization profile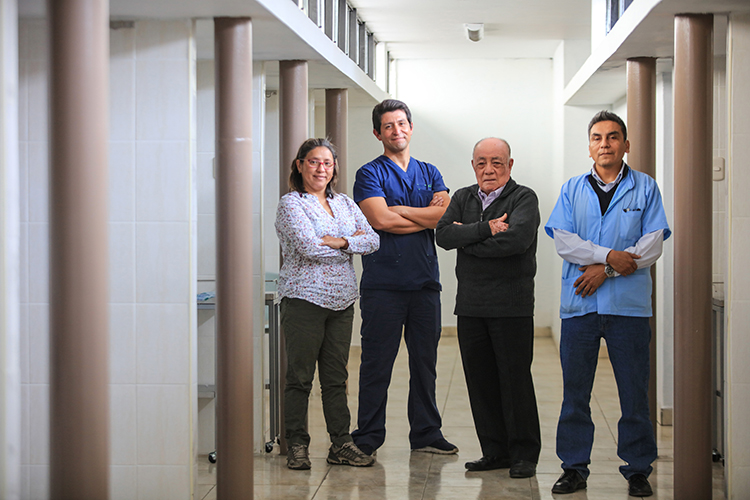 El medio local de crianza de los animales domésticos plantea necesidades especiales para el diagnostico y tratamiento de los pacientes, por esto resulta importante el estudio de las enfermedades de los animales para permitir el planteamiento de alternativas de concreción de las mismas mediante la experimentación y análisis de datos. estos resultados permitirán guiar de manera sucesiva la docencia e investigación en las áreas de interés en medicina veterinaria.
Fingerprint
Dive into the research topics where Grupo de investigación en cirugía, anestesiología, imagenología, neurología y medicina interna veterinaria is active. These topic labels come from the works of this organization's members. Together they form a unique fingerprint.
Network
Recent external collaboration on country level. Dive into details by clicking on the dots.


Elvis Calderón, F.,

Juan Espinoza, B.

, Olga Li, E. &

Barrios-Arpi, M.

,

2020

,

In:

Revista de Investigaciones Veterinarias del Peru.

31

,

3

, e18156.

Research output: Contribution to journal › Article › peer-review

García, C. B.,

Aguilar, C. G.

, Falcón, N. P. & Delgado, A. C.,

22 Jun 2020

,

In:

Revista de Investigaciones Veterinarias del Peru.

31

,

2

, 15092.

Research output: Contribution to journal › Article › peer-review

Anampa, D., Benites, C.,

Lázaro, C.

,

Espinoza, J.

, Angulo, P.,

Díaz, D.

, Manchego, A. & Rojas, M.,

Sep 2020

,

In:

Revista Panamericana de Salud Publica/Pan American Journal of Public Health.

44

,

1

Research output: Contribution to journal › Article › peer-review