organization profile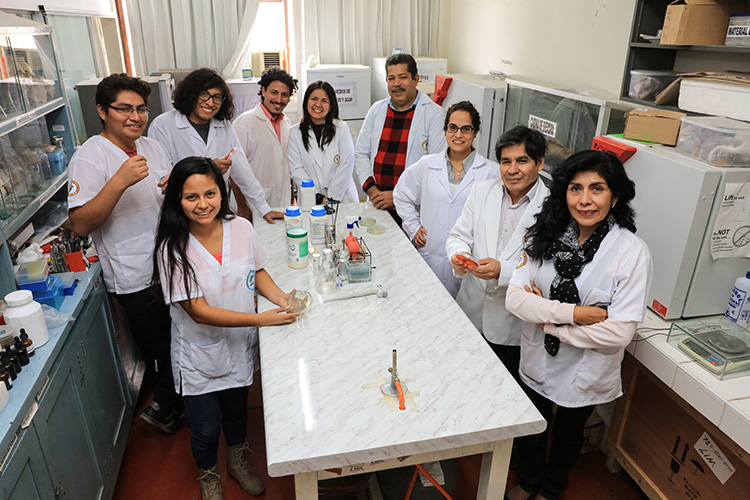 GRISANAC es un grupo de investigación ligado a la Facultad de Medicina Veterinaria (FMV) de la Universidad Nacional mayor de San Marcos (UNMSM), conformado por investigadores nacionales e internacionales, alumnos de posgrado y pregado de diversas disciplinas, con experiencia en el área acuícola. Los integrantes tenemos intereses comunes en investigar sobre los problemas sanitarios que afectan a los organismos acuáticos criados de manera intensiva, además de monitorear y estudiar las enfermedades que afectan a organismos acuáticos silvestres continentales y marinos. Desarrollar las técnicas de diagnóstico adecuadas para la identificación y determinación de los patógenos que faciliten su tratamiento,control y/o erradicación. Investigamos las respuestas inmunes de los organismos acuáticos contra los organismos patógenos que las afectan como su manejo para buscar la inmunoprotección de forma eficaz, Conocimientos que ayudaran al manejo sanitario y decisiones técnicas por las autoridades sanitarias de especies acuicolas del país como es el SANIPES, apoyo a los productores que conforman la industria acuícola del país para hacerla sostenible y brindar conocimientos e investigación formativa a los estudiantes, futuros profesionales que serán especialistas en el área de la sanidad acuícola que requiere el país.
Fingerprint
Dive into the research topics where Grupo de investigación en sanidad acuícola is active. These topic labels come from the works of this organization's members. Together they form a unique fingerprint.
Network
Recent external collaboration on country level. Dive into details by clicking on the dots.


Wilson Quispe, G., Belisario Mantilla, M., Alberto Ccama, S., Yessica Ortega, A. &

Nieves Sandoval, C.

,

26 Nov 2020

,

In:

Revista de Investigaciones Veterinarias del Peru.

31

,

4

, e19024.

Research output: Contribution to journal › Article › peer-review

José Atauje, S.,

Mercy Ramírez, V.

, Alfonso Zúñiga, H., Pedro Ospina, S., Dennis Navarro, M. &

Hermelinda Rivera, G.

,

2019

,

In:

Revista de Investigaciones Veterinarias del Peru.

30

,

1

,

p. 477-482

6 p.

Research output: Contribution to journal › Article › peer-review

Navarro Mamani, D. A.

, Miguel Rojas, M., Jessica Jurado, P., Alberto Manchego, S.,

Mercy Ramírez, V.

, Ana Castillo, E. &

Hermelinda Rivera, G.

,

2019

,

In:

Revista de Investigaciones Veterinarias del Peru.

30

,

1

,

p. 465-476

12 p.

Research output: Contribution to journal › Article › peer-review