organization profile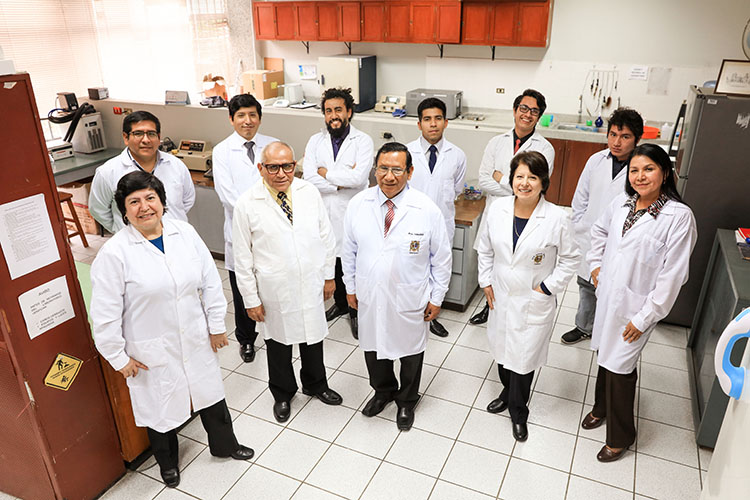 Por su ubicación geográfica, el Perú tiene una variada y abundante fauna entre las que destacan los animales ponzoñosos. Estas especies pueden ocasionar graves accidentes en humanos e incluso la muerte pero además, varios de sus principios activos tienen importancia en medicina. Desde hace 4 décadas, nuestro Grupo de Investigación ha realizado una creciente y activa investigación, habiéndose caracterizado no menos de 30 componentes bioactivos procedentes de serpientes, arañas, escorpiones y hormigas. También se han explorado los mecanismos de envenenamiento y su neutralización contando con el apoyo de importantes universidades de Inglaterra, España, Costa Rica y Brasil entre otros, teniendo financiamiento de la IFS-Suecia, la Agencia Internacional de Energía Atómica, el Gobierno Británico, así como el CONCYTEC, el INS-Perú, la Fundación Hipólito Unanue y el programa FINCyT. Nuestro trabajo ha originado no menos de 120 tesis entre bachiller, licenciatura, magíster y doctor. Se han organizado numerosos cursos y talleres de pre y posgrado, así como de divulgación general sobre los animales ponzoñosos del país. Nuestro grupo ha participado en eventos internacionales en 30 países y recibido importantes distinciones de la TWAS, CONCYTEC, INS y la UNMSM.
Fingerprint
Dive into the research topics where Grupo de investigación en toxinas de origen animal y sus antivenenos is active. These topic labels come from the works of this organization's members. Together they form a unique fingerprint.
Network
Recent external collaboration on country level. Dive into details by clicking on the dots.


Pacheco, V.

, Sánchez-Vendizú, P., Salazar, C. R. L., Pino, K., Medina, C. &

Vivas-Ruiz, D.

,

3 Jul 2020

,

In:

Journal of Mammalogy.

101

,

3

,

p. 858-871

14 p.

Research output: Contribution to journal › Article › peer-review

La Rosa, R.

, Flores-Nuñez, A., Chávez, M., Flores, G., Alcalde, M., Zeña, H., Arieta, L., Valderrama, N., Huerta, C. &

Sandoval, G.

,

2020

,

In:

Acta Botanica Mexicana.

127

,

p. 1-11

11 p.

, 1695.

Research output: Contribution to journal › Article › peer-review

Vivas-Ruiz, D. E.

,

Sandoval, G. A.

, Gonzalez-Kozlova, E., Zarria-Romero, J.,

Lazo, F.

,

Rodríguez, E.

, Magalhães, H. P. B., Chávez-Olortegui, C., Oliveira, L. S., Alvarenga, V. G., Urra, F. A., Toledo, J.,

Yarlequé, A.

, Eble, J. A. & Sanchez, E. F.,

15 Jun 2020

,

In:

International Journal of Biological Macromolecules.

153

,

p. 779-795

17 p.

Research output: Contribution to journal › Article › peer-review