organization profile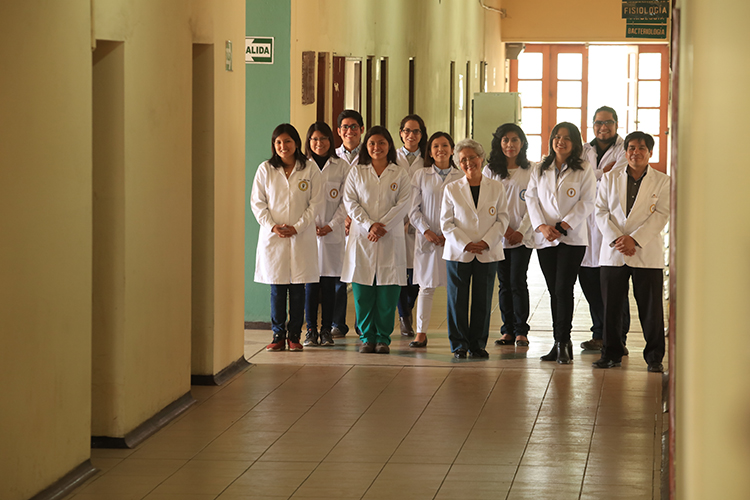 El GIVIVET está conformado por investigadores con amplia trayectoria en investigación, habiendo participado en conjunto en diversas investigaciones nacionales e internacionales, principalmente en las áreas de a)enfermedades virales de impacto económico que afectan a los animales de producción,b) los mecanismos del sistema inmune de mucosas de los camélidos sudamericanos, c) enfermedades virales transmitidas por insectos del género culicoides, entre otras. El grupo de carácter internacional, cuenta con expertos de reconocida trayectoria en las investigaciones de las enfermedades virales y de sus respuesta inmunes, así como de jóvenes investigadores y estudiantes universitarios que brinda al equipo una gran dinámica de conocimientos y vitalidad en el desarrollo de sus actividades. Estamos comprometidos con el sector pecuario en la solución de sus problemas sanitarios, habiendo contribuido en la detección de agentes virales emergentes de gran impacto en la producción pecuaria colaborando con el SENASA. En la parte de investigación básica aplicada estamos contribuyendo al conocimiento de la respuesta inmune de los camélidos sudamericanos frente a los microorganismos patógenos mas frecuentes causantes de las enfermedades en crías.
Fingerprint
Dive into the research topics where Grupo de investigación en virología e inmunología veterinaria - San Marcos is active. These topic labels come from the works of this organization's members. Together they form a unique fingerprint.
Network
Recent external collaboration on country level. Dive into details by clicking on the dots.


Arias-Pacheco, C.,

Pezo, D.

, Mathias, L. A., Tebaldi, J. H., Castelo-Oviedo, H. & Lux-Hoppe, E. G.,

Jun 2021

,

In:

Tropical Animal Health and Production.

53

,

2

, 211.

Research output: Contribution to journal › Article › peer-review

Wilson Quispe, G., Belisario Mantilla, M., Alberto Ccama, S., Yessica Ortega, A. &

Nieves Sandoval, C.

,

26 Nov 2020

,

In:

Revista de Investigaciones Veterinarias del Peru.

31

,

4

, e19024.

Research output: Contribution to journal › Article › peer-review

Jurado, J. P., Navarro, D. M., Ramírez, M. V., Santiago, M. A. C. &

Rivera, H. G.

,

22 Jun 2020

,

In:

Revista de Investigaciones Veterinarias del Peru.

31

,

2

, 15111.

Research output: Contribution to journal › Article › peer-review