organization profile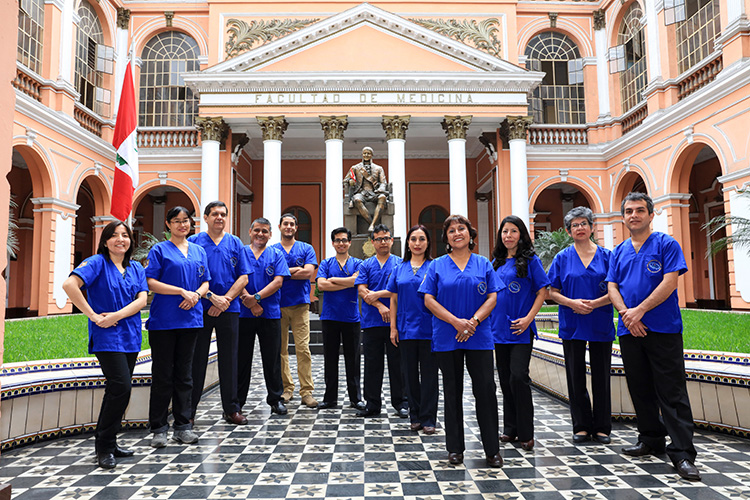 El grupo de investigación y docencia en Medicina Molecular, dirigido por la Dra Doris Virginia Huerta Canales de Miranda se establece con la misión de fortalecer los vínculos entre la investigación molecular y la medicina en nuestro medio. Aspiramos a proporcionar soluciones tangibles a las necesidades de la universidad, pacientes, instituciones clínicas (hospitales) colaboradoras industria y gobierno en el ámbito de la medicina molecular. Nuestro grupo estudia las enfermedades humanas usando métodos genómicos y epi genéticos, para consolidar el portafolio de iniciativas de actividades de investigación existentes tanto a nivel local , nacional e internacional en las siguientes áreas temáticas: - Polimorfismos genéticos y estudios poblacionales, - Epidemiologia Molecular - Microbioma y Salud - Nutrigenomica, - Enfermedades Metabólicas - Bioinformática - Biología Molecular del Cáncer - Educación Medica y Medicina Molecular - Proteomica Los investigadores que conforman el grupo tienen amplia formación académica y experiencia en docencia e investigación en el área. Los investigadores publican periódicamente sus trabajos en revistas indexadas en WOS, ISI, Scopus, Medline, Scielo, Redalyc, entre otros.
Fingerprint
Dive into the research topics where Grupo de investigación y docencia en medicina molecular is active. These topic labels come from the works of this organization's members. Together they form a unique fingerprint.
Network
Recent external collaboration on country level. Dive into details by clicking on the dots.

Research Output
37

Citations

2

h-Index

3

Article
Schlebusch, C. M., Lewis, C. M., Vahter, M., Engström, K., Tito, R. Y., Obregón-Tito, A. J.,
Huerta, D.
, Polo, S. I., Medina, Á. C., Brutsaert, T. D., Concha, G., Jakobsson, M. & Broberg, K.,
1 Jan 2013
,
In :

Environmental Health Perspectives.
p. 53-58
6 p.
Research output: Contribution to journal › Article
Martinez, R. E., Bravo, M. L., Aguirre, D., Polo, S. I.,
Huerta, D. V.
, Gusmão, L. & Builes, J. J.,
1 Aug 2008
,
In :

Forensic Science International: Genetics Supplement Series.
p. 153-154
2 p.
Research output: Contribution to journal › Article