organization profile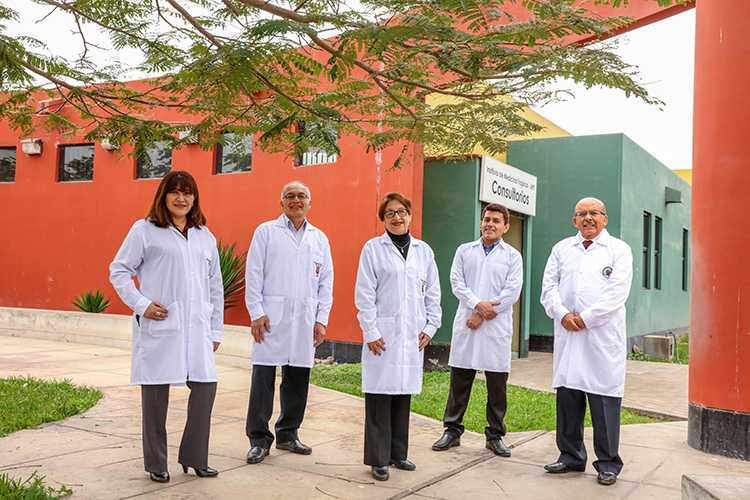 El grupo tiene como característica importante ser multidisciplinario, porque está constituido por médicos, biólogos y tecnólogos médicos, docentes e investigadores de la Facultad de Medicina, y estamos trabajando juntos en investigación desde hace 10 años en el Instituto de Medicina Tropical de la UNMSM. La conformación del grupo se logró por nuestro interés en temas de investigación coincidentes, lo que facilitó el desarrollo proyectos de investigación financiados por el VRI-UNMSM. Los más de 20 proyectos de investigación en enfermedades infecciosas y tropicales fueron desarrollados y publicados en revistas nacionales e internacionales. Entre nuestros principales logros citaremos el desarrollo y evaluación de un test de ELISA y dot- ELISA para el serodiagnóstico de la toxocarosis humana, el cual nos ha permitido realizar estudios seroepidemiológicos en varias ciudades del nuestro país. Por otro lado, hemos desarrollo un test de ELISA para la detección de anticuerpos específicos de tipo IgE, el cual nos ha permitido realizar un diagnóstico de alta sensibilidad y especificidad, con el cual se ha podido realizar el diagnóstico y seguimiento de pacientes con equinococosis (hidatidosis) que fueron tratados medicamente. Además, se ha estandarizado el tratamiento médico de la equinococosis (hidatidosis) hepática, pulmonar y en otros órganos, con albendazol.
Fingerprint
Dive into the research topics where Infecciones hepáticas is active. These topic labels come from the works of this organization's members. Together they form a unique fingerprint.
Network
Recent external collaboration on country level. Dive into details by clicking on the dots.


Maccali, C., Chagas, A. L., Boin, I., Quiñonez, E., Marciano, S., Vilatobá, M., Varón, A., Anders, M., Hoyos Duque, S., Lima, A. S., Menendez, J.,

Padilla-Machaca, M.

, Poniachik, J., Zapata, R., Maraschio, M., Chong Menéndez, R., Muñoz, L., Arufe, D., Figueroa, R., Soza, A.

& 15 others

, ,

Apr 2021

,

In:

Liver International.

41

,

4

,

p. 851-862

12 p.

Research output: Contribution to journal › Article › peer-review

Piñero, F., Boin, I., Chagas, A., Quiñonez, E., Marciano, S., Vilatobá, M., Santos, L., Anders, M., Hoyos Duque, S., Soares Lima, A., Menendez, J.,

Padilla, M.

, Poniachik, J., Zapata, R., Maraschio, M., Chong Menéndez, R., Muñoz, L., Arufe, D., Figueroa, R., Mendizabal, M.

& 12 others

, ,

1 May 2020

,

In:

Liver Transplantation.

26

,

5

,

p. 640-650

11 p.

Research output: Contribution to journal › Article › peer-review

Arab, J. P., Dirchwolf, M., Álvares-da-Silva, M. R., Barrera, F., Benítez, C., Castellanos-Fernandez, M., Castro-Narro, G., Chavez-Tapia, N., Chiodi, D., Cotrim, H., Cusi, K., de Oliveira, C. P. M. S., Díaz, J., Fassio, E., Gerona, S., Girala, M., Hernandez, N., Marciano, S., Masson, W., Méndez-Sánchez, N.

& 18 others

, ,

1 Nov 2020

,

In:

Annals of Hepatology.

19

,

6

,

p. 674-690

17 p.

Research output: Contribution to journal › Article › peer-review