organization profile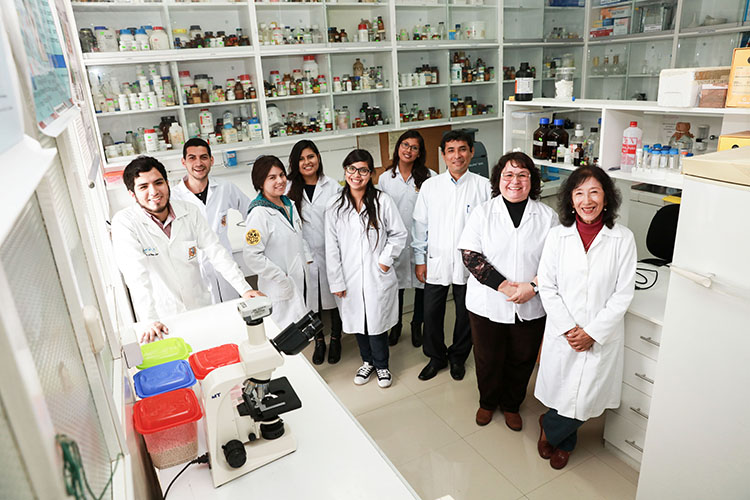 El GI Inmunomoduladores de Origen Natural se formó el año 2006, desde entonces se ha presentado a diversas convocatorias de la UNMSM y de otras entidades externas como CONCYTEC, ganando financiamiento para realizar investigación sobre inmunomoduladores de origen natural obtenidos de plantas y levaduras nativas, aplicados tanto a resolver problemas de salud humana como animal, en este caso de peces de importancia en acuicultura. Debido al avance que ha experimentado la proteómica y a la importancia que han cobrado los polisacáridos como inmunomoduladores, los objetivos se han ampliado al estudio de moléculas sintéticas modificándose el nombre del GI a fin de incluir el estudio de inmunomoduladores de origen síntético como péptidos bacterianos o de parásitos diseñados y sintetizados. El GI contribuye desde su inicio con la formación de recursos humanos calificados que se encuentran realizando estudios de posgrado en universidades nacionales y extranjeras y con profesionales que se desempeñan con éxito en nuestro país. A corto plazo, la finalidad del GI es desarrollar una plataforma biotecnológica para estudios de bioprospección de plantas nativas buscando inmunomoduladores y antitumorales.
Fingerprint
Dive into the research topics where Inmunomoduladores y antitumorales de origen natural y sintético is active. These topic labels come from the works of this organization's members. Together they form a unique fingerprint.
Network
Recent external collaboration on country level. Dive into details by clicking on the dots.


Aguirre-Siancas, E. E.

,

Colona-Vallejos, E.

,

Ruiz-Ramirez, E.

, Becerra-Bravo, M. & Alzamora-Gonzales, L.,

Mar 2021

,

In:

Neurologia.

36

,

2

,

p. 184-185

2 p.

Research output: Contribution to journal › Letter › peer-review

Lam-Figueroa, N. M.

, Alzamora-Gonzales, L.,

Colona-Vallejos, E.

, Arone-Farfán, R.,

Ruiz-Ramírez, E.

, Crispín-Huamaní, L. J., Portilla-Flores, O. S., Alarcón-Velásquez, L. &

Aguirre-Siancas, E. E.

,

Sep 2020

,

In:

Revista Chilena de Neuro-Psiquiatria.

58

,

3

,

p. 221-229

9 p.

Research output: Contribution to journal › Article › peer-review

Colona-Vallejos, E. H.

,

Alzamora-Gonzales, L.

, Chavez Perez, J. A., Apumayta Suarez, E. V. & Avila, I. C.,

1 Jan 2019

,

In:

Revista Peruana de Biologia.

p. 291-300

10 p.

Research output: Contribution to journal › Article › peer-review