organization profile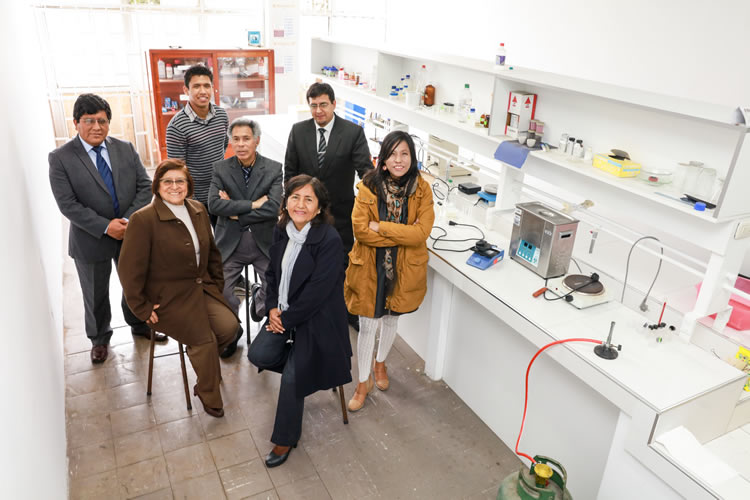 El Grupo de Investigación MATINTEC está conformado por un equipo multidisciplinario de docentes investigadores, estudiantes de pre-grado y posgrado de nuestra universidad de las carreras profesionales de Química, Biología, Ingeniería Química e Ingeniería Geológica, Minera, Metalúrgica y Geográfica, quienes desarrollarán diversos trabajos de investigación que serán registrados como temas de tesis, en este grupo destaca la Mg. Ana María Osorio Anaya, quien ha sido considerada como Investigadora CONCYTEC con registro Regina N°1767. La fortaleza del grupo está garantizada porque también cuenta con destacados investigadores de diversos países como España, Chile, Puerto Rico, Argentina, entre ellos, la Dra Catalina Ruíz obtuvo recientemente el premio Canarias 2017, en la modalidad de investigación e Innovación. Adicional a ello se cuenta con la presencia de profesionales de gran experiencia en la industria, como UNACEM e INQUIMET SRL., lo que nos permitirá realizar transferencia de conocimientos. El interés principal del grupo consiste en preparar, sintetizar, caracterizar y evaluar propiedades de nuevos materiales y nanomateriales, los cuáles se aplicarán para realizar Innovaciones Tecnológicas, con la finalidad de resolver problemas de contaminación ambiental con enfoque en el agua, en aplicaciones biomédicas, en la industria de la construcción, en industrias alimentarias con formulación de empaques comestibles biodegradables.
Fingerprint
Dive into the research topics where Materiales para la innovación tecnológica is active. These topic labels come from the works of this organization's members. Together they form a unique fingerprint.
Network
Recent external collaboration on country level. Dive into details by clicking on the dots.


Zarria-Romero, J.,

Osorio, A.

,

Pino, J.

,

Shiga, B.

&

Vivas-Ruiz, D.

,

1 Jul 2017

,

In:

Revista Peruana de Medicina de Experimental y Salud Publica.

34

,

3

,

p. 436-444

9 p.

Research output: Contribution to journal › Article › peer-review

Bustamante, A.,

Osorio, A. M.

, De Los Santos Valladares, L., Garcia, J., González, J. C., Barnes, C. H. W., Azuma, Y., Majima, Y. & Aguiar, J. A.,

2014

,

In:

Journal of Physics: Conference Series.

507

,

PART 1

, 012005.

Research output: Contribution to journal › Conference article › peer-review

León, L., Bustamante, A.,

Osorio, A.

, Olarte, G. S., De Los Valladares, L. S., Barnes, C. H. W. & Majima, Y.,

Nov 2011

,

In:

Hyperfine Interactions.

202

,

1-3

,

p. 131-137

7 p.

Research output: Contribution to journal › Article › peer-review