organization profile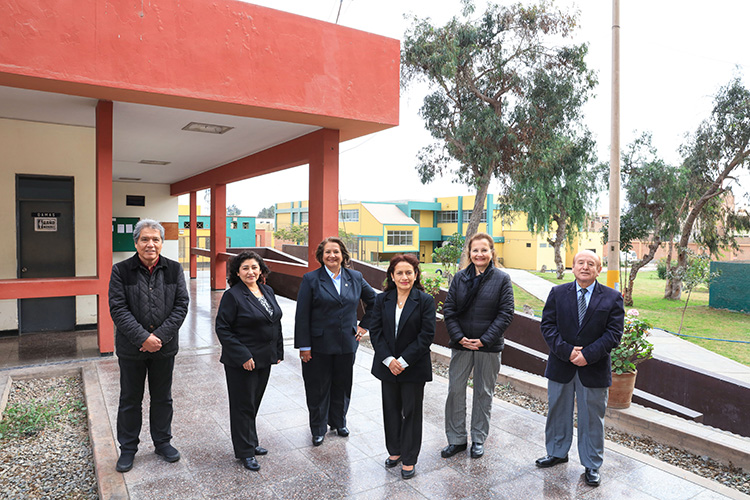 Grupo de Investigación "Microorganismos emergentes y reemergentes de importancia médica" (MERIMED) Recientemente conformado frente a la nueva modalidad que plantea la Universidad para trabajo de Investigación, tiene como integrantes a docentes investigadores con interés en la investigación científica trabajando cada uno en temas diversos, pero ahora como grupo de investigación, en el estudio de microorganismos emergentes y reemergentes principalmente Arcobacter, bacteria considerada a nivel mundial como zoonótica emergente causante de enfermedad diarreica (diarrea del viajero) en humanos y otras patologías en animales, ganado vacuno, porcino y otros; con escasos reportes de aislamiento por cultivo en el mundo, incluyendo Latinoamérica y en especial en el Perú. Los docentes investigadores con la participación de estudiantes de pre y post grado tienen el interés de abordar el estudio bacteriológico y de biología molecular para el diagnóstico, epidemiología que brinden apoyo al control y prevención de estos microorganismos.
Fingerprint
Dive into the research topics where Microorganismos emergentes y reemergentes de importancia médica is active. These topic labels come from the works of this organization's members. Together they form a unique fingerprint.
Network
Recent external collaboration on country level. Dive into details by clicking on the dots.


Matta-Chuquisapon, J., Valencia-Bazalar, E.,

Marocho-Chahuayo, L.

, Gonzales-Escalante, E. &

Sevilla-Andrade, C. R.

,

2020

,

In:

Revista Peruana de Medicina de Experimental y Salud Publica.

37

,

2

,

p. 282-286

5 p.

Research output: Contribution to journal › Article › peer-review

Bejar, V.

, Tello, M.,

García, R.

,

Guevara, J. M.

, Gonzales, S.,

Vergaray, G.

, Valencia, E., Abanto, E., Ortega-Loayza, A. G., Hagen, F. & Gutierrez, E. L.,

1 Apr 2015

,

In:

Revista Iberoamericana de Micologia.

32

,

2

,

p. 88-92

5 p.

Research output: Contribution to journal › Article › peer-review

Mori, N.,

Guevara, J. M.

, Tilley, D. H., Briceno, J. A., Zunt, J. R. & Montano, S. M.,

Feb 2013

,

In:

Journal of Medical Microbiology.

62

,

PART 2

,

p. 335-337

3 p.

Research output: Contribution to journal › Article › peer-review