organization profile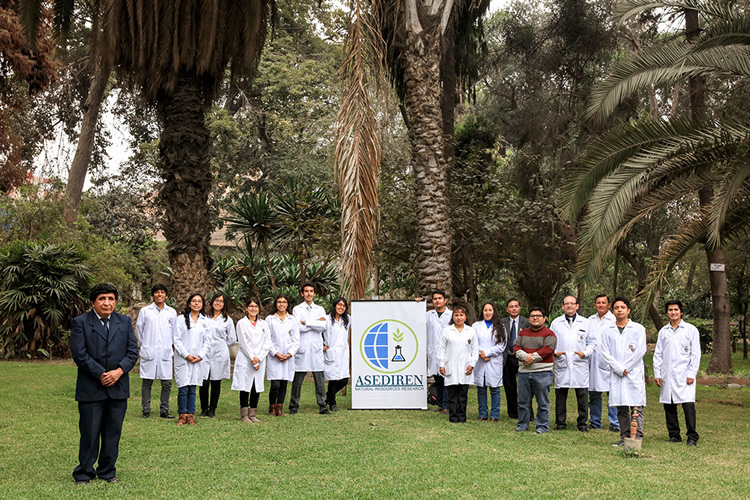 El equipo de investigación "Natural Resources Research" se ha constituido sobre la base de docentes universitarios de la Facultad de Farmacia y Bioquímica y de otras Facultades en forma multidisciplinaria. Natural Resources Research tiene como antecedente y predecesor al grupo de estudio ASEDIREN el cual bajo esta línea de investigación ya venía participando año tras año con múltiples investigaciones financiadas con proyectos de subvención de tipo: grupo de estudio,CON-CON, Multidisciplinario, PIBA, FINCYT, CONCYTEC y congresos estudiantiles. Equipo dedicado al estudio y aprovechamiento de los recursos naturales orientados a los problemas de la salud, de los medicamentos, de los cosméticos y de los alimentos. Además de las tesis de pregrado y posgrado como también al apoyo en forma eficaz a la docencia. El estudio y aprovechamiento de los recursos naturales en "Natural Resources Research" se da bajo los enfoques de estudio bromatológico; farmacognostico; elucidación de principios activos y caracterización química; pruebas de actividad como antimicrobiana, antioxidante entre otras y elaboración de formas farmacéuticas para el aprovechamiento y uso de los metabolitos presentes en la gran diversidad peruana de plantas.
Fingerprint
Dive into the research topics where Natural resources research is active. These topic labels come from the works of this organization's members. Together they form a unique fingerprint.
Network
Recent external collaboration on country level. Dive into details by clicking on the dots.


Research output
1

Citations

1

h-Index

2

Article
Navarro-Valdez, K., Capillo-Herrera, N.,

Calixto-Cotos, M. R.

& Santisteban-Rojas, O. P.,

Dec 2020

,

In:

Scientia Agropecuaria.

11

,

4

,

p. 547-554

8 p.

Research output: Contribution to journal › Article › peer-review