organization profile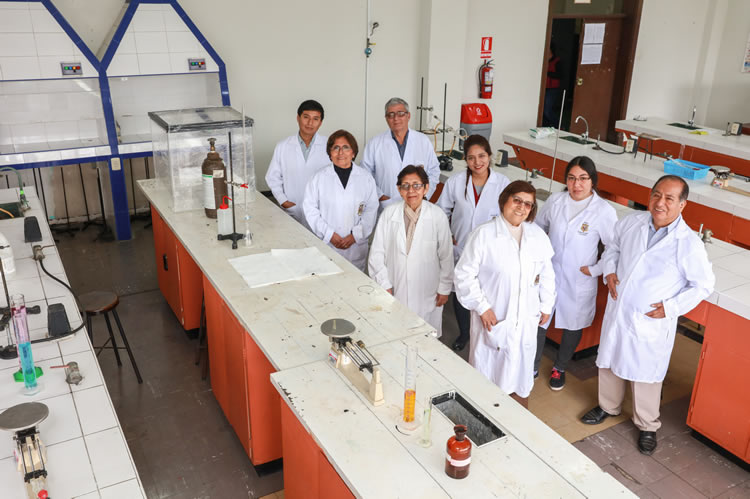 Los integrantes de este grupo, Juana Sandivar, Maria H. Carhuancho, Manuel bejar, y Jose Luis Pino, participaron en el trabajo de investigación "Monitoreo y Evaluacion del Grado de Contaminación en los Laboratorios de la FQIQ su impacto en la Salud y en el medio ambiente". Este trabajo de investigación fue realizada bajo la modalidad CON_CON y auspiciada por el Vicerectorado de Investigación. Los resultados fueron publicados en la Revista Indexada de la Sociedad Química del Perú-2014. Este grupo de investigación se reunió para dar continuidad a la investigación mencionada. En esta nueva etapa se validaran los resultados del primer trabajo, para ello se invita al PhD Alejandro Suarez para apoyar al grupo en el diseño experimental y el ensamblaje de los equipos de experimentación. También se invita al estudiante de post-grado Teodosio Chavez y a los estudiante de pre-grado Víctor Rocha, Marco Mendoza y Geiro Camarena quienes buscaran consolidar la conclusión de sus correspondientes tesis.
Fingerprint
Dive into the research topics where Nuevos materiales y biotecnología is active. These topic labels come from the works of this organization's members. Together they form a unique fingerprint.
Network
Recent external collaboration on country level. Dive into details by clicking on the dots.


Zarria-Romero, J.,

Osorio, A.

,

Pino, J.

,

Shiga, B.

&

Vivas-Ruiz, D.

,

1 Jul 2017

,

In:

Revista Peruana de Medicina de Experimental y Salud Publica.

34

,

3

,

p. 436-444

9 p.

Research output: Contribution to journal › Article › peer-review

Torres, L. R. O., Shinagawa, F. B., Santana, F. C., Araújo, E. S.,

Oropeza, M. V. C.

, Macedo, L. F. L., Almeida-Muradian, L. B., Lima, H. C. & Mancini-Filho, J.,

2016

,

In:

International Food Research Journal.

23

,

4

,

p. 1541-1551

11 p.

Research output: Contribution to journal › Article › peer-review

Lara, D. C.,

Oropeza, M. V. C.

, De Aguiar, L. G. & Giudici, R.,

2011

,

Catalysis and Reaction Engineering Division - Core Programming Topic at the 2011 AIChE Annual Meeting.

AIChE

,

p. 1143-1148

6 p.

(Catalysis and Reaction Engineering Division - Core Programming Topic at the 2011 AIChE Annual Meeting; vol. 2).

Research output: Chapter in Book/Report/Conference proceeding › Conference contribution › peer-review