organization profile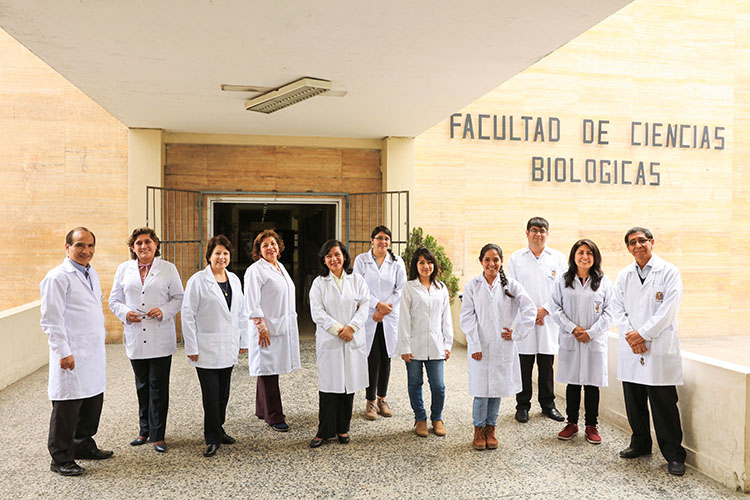 El grupo de investigación (GI) RECURSOS NATURALES Y BIOACTIVOS (RENABIO) surge como una necesidad de aunar esfuerzos de un grupo de docentes-investigadores de la UNMSM en torno a ideas comunes de impulsar la investigación básico-aplicada desde una óptica de trabajos multidisciplinarios aprovechando el uso responsanble de la megadiversidad de los recursos naturales que posee nuestro país. En realidad, el grupo de estudios ya viene trabajando los últimos 7 años en forma conjunta, habiendo participado exitosamente en diferentes convocatorias a nivel de la UNMSM, CONCYTEC, FINCYT y ultimamente INNÓVATE PERÚ. Producto de este esfuerzo son los trabajos de investigación ejecutados a la fecha, las numerosas tesis sustentadas a nivel de pre y posgrado, la infraestructura remodelada e equipada con tecnología de ultima generación; todo gracias al esfuerzo de sus integrantes y el financiamiento correspondiente de las instituciones comprometidas con el desarrollo de la ciencia y la tecnología en el Perú.
Fingerprint
Dive into the research topics where Recursos naturales y bioactivos is active. These topic labels come from the works of this organization's members. Together they form a unique fingerprint.
Network
Recent external collaboration on country level. Dive into details by clicking on the dots.

Castro, O. N., Benites, J., Rodilla, J.,
Santiago, J. C.
, Simirgiotis, M., Sepulveda, B. & Areche, C.,
1 Jun 2017
,
In :

Chromatographia.
p. 967-973
7 p.
Research output: Contribution to journal › Article
Barrera Tomas, M.,
Tomas Chota, G. E.
, Sheen Cortavarría, P., Fuentes Bonilla, P., Inocente Camones, M. A. &
Santiago Contreras, J.
,
1 Jan 2017
,
In :

Revista Colombiana de Quimica.
p. 17-21
5 p.
Research output: Contribution to journal › Article
León, J.
, Aponte, J. J., Cuadra, DL. L., Galindo, N., Jaramillo, L., Vallejo, M. & Marguet, E.,
1 Apr 2016
,
In :

Revista de Biologia Marina y Oceanografia.
p. 69-80
12 p.
Research output: Contribution to journal › Article