organization profile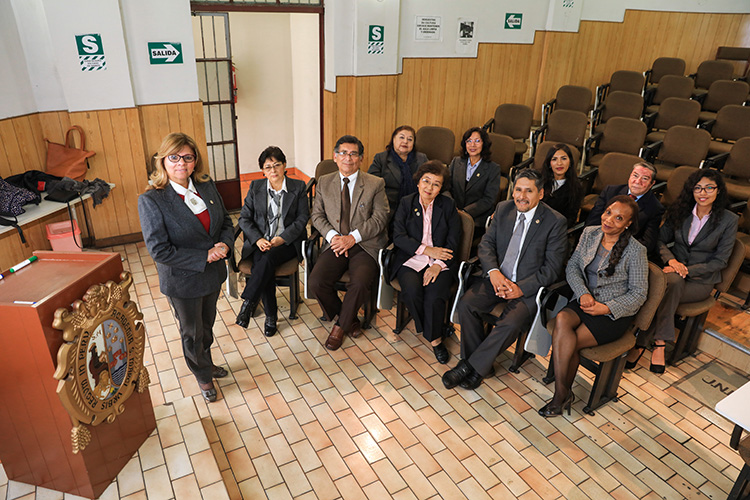 Somos un equipo multidisciplinario conformado por docentes de diferentes Facultades de la Universidad Nacional Mayor de San Marcos (UNMSM) y de otras Universidades nacionales y extranjeras. Estamos formados en ciencias de la salud, sociales y ambientales, con amplia experiencia en investigación, organización de eventos científicos internacionales y vinculados a redes de investigación. Actualmente, a partir de la iniciativa de un equipo de docentes del Departamento Académico de Medicina Preventiva y Salud Pública nos hemos integrado para aunar esfuerzos y potenciar los resultados en la investigación y el desarrollo. Asimismo, integran el equipo jóvenes investigadores estudiantes de pre y postgrado. Cultivamos diversas áreas del saber y estamos comprometidos con la realización de investigaciones que visibilicen las interacciones entre el ambiente, la sociedad y la salud de la población peruana. Se busca identificar riesgos y determinantes sociales, económicos, culturales y ambientales, proponiendo alternativas de políticas públicas e intervenciones en el marco de Desarrollo Sostenible. Además, desarrollar métodos y tecnologías innovadoras para el análisis socio-territorial que permitan mejores intervenciones ajustadas a la realidad y costo-eficaces para la salud de la población.
Fingerprint
Dive into the research topics where Riesgos y determinantes de la salud is active. These topic labels come from the works of this organization's members. Together they form a unique fingerprint.
Network
Recent external collaboration on country level. Dive into details by clicking on the dots.


Fernando Carcelén, C.

,

Felipe San Martín, H.

,

Miguel Ara, G.

, Sandra Bezada, Q., Ana Asencios, M.,

Ronald Jimenez, A.

,

Santillan Altamirano, G.

, Rosa Perales, C. &

Jorge Guevara, V.

,

Sep 2020

,

In:

Revista de Investigaciones Veterinarias del Peru.

31

,

3

, e18735.

Research output: Contribution to journal › Article › peer-review

Brock Fenton, M., Streicker, D. G., Racey, P. A., Tuttle, M. D., Medellin, R. A., Daley, M. J.,

Recuenco, S.

& Bakker, K. M.,

1 Apr 2020

,

In:

Nature Ecology and Evolution.

4

,

4

,

p. 517-518

2 p.

Research output: Contribution to journal › Article › peer-review

Brock Fenton, M., Streicker, D. G., Racey, P. A., Tuttle, M. D., Medellin, R. A., Daley, M. J.,

Recuenco, S.

& Bakker, K. M.,

1 Apr 2020

,

In:

Nature Ecology and Evolution.

p. 517-518

2 p.

Research output: Contribution to journal › Article › peer-review
1/07/20

1 item of Media coverage

Press/Media