organization profile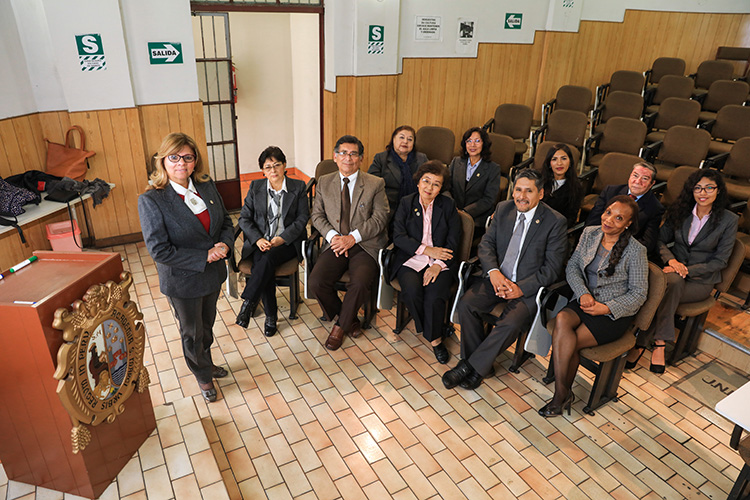 Somos un equipo multidisciplinario conformado por docentes de diferentes Facultades de la Universidad Nacional Mayor de San Marcos (UNMSM) y de otras Universidades nacionales y extranjeras. Estamos formados en ciencias de la salud, sociales y ambientales, con amplia experiencia en investigación, organización de eventos científicos internacionales y vinculados a redes de investigación. Actualmente, a partir de la iniciativa de un equipo de docentes del Departamento Académico de Medicina Preventiva y Salud Pública nos hemos integrado para aunar esfuerzos y potenciar los resultados en la investigación y el desarrollo. Asimismo, integran el equipo jóvenes investigadores estudiantes de pre y postgrado. Cultivamos diversas áreas del saber y estamos comprometidos con la realización de investigaciones que visibilicen las interacciones entre el ambiente, la sociedad y la salud de la población peruana. Se busca identificar riesgos y determinantes sociales, económicos, culturales y ambientales, proponiendo alternativas de políticas públicas e intervenciones en el marco de Desarrollo Sostenible. Además, desarrollar métodos y tecnologías innovadoras para el análisis socio-territorial que permitan mejores intervenciones ajustadas a la realidad y costo-eficaces para la salud de la población.
Fingerprint
Dive into the research topics where Riesgos y determinantes de la salud is active. These topic labels come from the works of this organization's members. Together they form a unique fingerprint.
Network
Recent external collaboration on country level. Dive into details by clicking on the dots.

Brock Fenton, M., Streicker, D. G., Racey, P. A., Tuttle, M. D., Medellin, R. A., Daley, M. J.,
Recuenco, S.
& Bakker, K. M.,
1 Apr 2020
,
In :

Nature Ecology and Evolution.
p. 517-518
2 p.
Research output: Contribution to journal › Article
Raynor, B., De la Puente-León, M., Johnson, A., Díaz, E. W., Levy, M. Z.,
Recuenco, S. E.
& Castillo-Neyra, R.,
1 May 2020
,
In :

Preventive Veterinary Medicine.
Research output: Contribution to journal › Article
Cynthia Valdizán, G.,
Fernando Carcelén, C.
,
Miguel Ara, G.
, Sandra Bezada, Q.,
Ronald Jiménez, A.
, Ana Asencios, M. & Jorge Guevara, V.,
1 Jan 2019
,
In :

Revista de Investigaciones Veterinarias del Peru.
p. 590-597
8 p.
Research output: Contribution to journal › Article
1/07/20
1 item of Media coverage
Press/Media