organization profile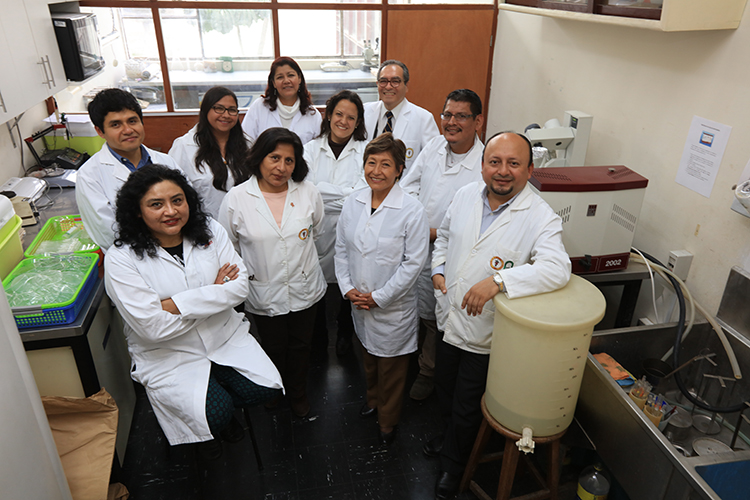 INOCUVET nace como respuesta a la necesidad de generar alternativas innovadoras en seguridad alimentaria para nuestro país. Es un equipo liderado por renombrados docentes investigadores de entidades como la UNMSM y la UNALM (Perú), así como expertos internacionales de la UABCS (México) y la ULE (España). La labor de INOCUVET se complementa con el apoyo de alumnos, tesistas y egresados, cuyo interés permite trazar el rumbo para la formación de nuevos investigadores. La trayectoria de los integrantes de INOCUVET se refleja en sus diversas publicaciones en revistas indexadas de todo el mundo, así como autorías de libros y manuales técnicos. Además, es evidente el protagonismo de sus miembros como conferencistas de diversos eventos científicos. El principal objetivo del equipo INOCUVET es la generación de nuevos conocimientos en los campos de tecnología e inocuidad alimentaria, y salud ambiental. Asimismo, conscientes de la responsabilidad social del investigador peruano, INOCUVET difunde nuevos conocimientos y capacita a la comunidad en temas de salud.
Fingerprint
Dive into the research topics where Salud pública y salud ambiental is active. These topic labels come from the works of this organization's members. Together they form a unique fingerprint.
Network
Recent external collaboration on country level. Dive into details by clicking on the dots.


Research output
244

Citations

7

h-Index

45

Article
Marlene Gonzales, L., Christian Luyo, A., Rosa Pinedo, V., Amanda Chávez, V. &

Eva Casas, A.

,

2019

,

In:

Revista de Investigaciones Veterinarias del Peru.

30

,

1

,

p. 357-363

7 p.

Research output: Contribution to journal › Article › peer-review

Pinedo, R. V., Chávez, A. V., Muñoz, K. D., Gonzáles-Viera, O.,

Casas, E. A.

, Abad-Ameri, D. & Villacaqui, E. A.,

2019

,

In:

Revista de Investigaciones Veterinarias del Peru.

30

,

2

,

p. 883-901

19 p.

Research output: Contribution to journal › Article › peer-review

Arnold Ríos, C.,

Morales-Cauti, S.

,

Miguel Vilca, L.

, Andrea Carhuallanqui, P. & Daphne Ramos, D.,

2019

,

In:

Revista de Investigaciones Veterinarias del Peru.

30

,

1

,

p. 438-445

8 p.

Research output: Contribution to journal › Article › peer-review