organization profile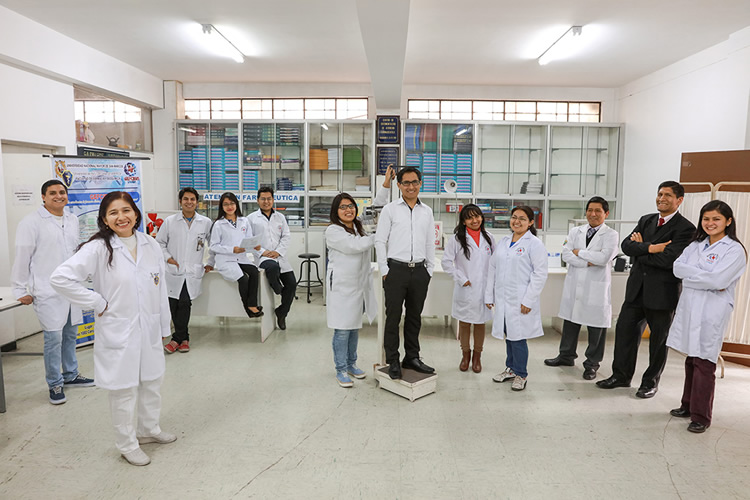 FARMACLI es un grupo de investigación que cuenta con profesionales con perfil de investigador / gestor / experto para desarrollar actividades de investigación, desarrollo e innovación (I+D+i) sobre los Servicios Farmacéuticos Clínicos y promover las iniciativas de estudios de investigación con reconocimiento de la UNMSM, que requiere el Perú. Los Servicios Farmacéuticos Clínicos que este grupo de investigación promueve se inician en el ámbito académico es decir somos un laboratorio de simulación de actividades clínicas al que nuestros alumnos de pre, post grado y tesistas acceden, esta ubicado en el Gabinete de Atención Farmacéutica (GAF) donde se realizan las sesiones de discusiones clínicas y tiene áreas destinados al seguimiento farmacoterapeutico, farmacovigilancia y centro de información de medicamentos. Esta en capacidad de desarrollar investigación formativa donde los alumnos con sus profesores especialistas en atención farmacéutica y profesores de farmacoterapia, farmacocinetica clínica, farmacología fortalecen sus competencias clínicas para identificar, evaluar, prevenir y resolver problemas relacionados a los medicamentos.
Fingerprint
Dive into the research topics where Servicios farmacéuticos clínicos is active. These topic labels come from the works of this organization's members. Together they form a unique fingerprint.
Network
Recent external collaboration on country level. Dive into details by clicking on the dots.


Research output
92

Citations

5

h-Index

7

Article
Intiquilla, A.,

Jiménez-Aliaga, K.

, Guzmán, F., Alvarez, C. A.,

Zavaleta, A. I.

,

Izaguirre, V.

& Hernández-Ledesma, B.,

30 Mar 2019

,

In:

Journal of the Science of Food and Agriculture.

99

,

5

,

p. 2420-2427

8 p.

Research output: Contribution to journal › Article › peer-review

Jimenez, K. L.

,

Zavaleta, A. I.

,

Izaguirre, V.

,

Yarleque, A.

& Inga, R. R.,

2010

,

In:

Revista Peruana de Medicina de Experimental y Salud Publica.

27

,

4

,

p. 532-539

8 p.

Research output: Contribution to journal › Article › peer-review

Tomé, A. R.,

Izaguirre, V.

, Rosário, L. M., Cea, V. & González-García, C.,

8 Jun 2001

,

In:

Brain Research.

903

,

1-2

,

p. 62-65

4 p.

Research output: Contribution to journal › Article › peer-review