organization profile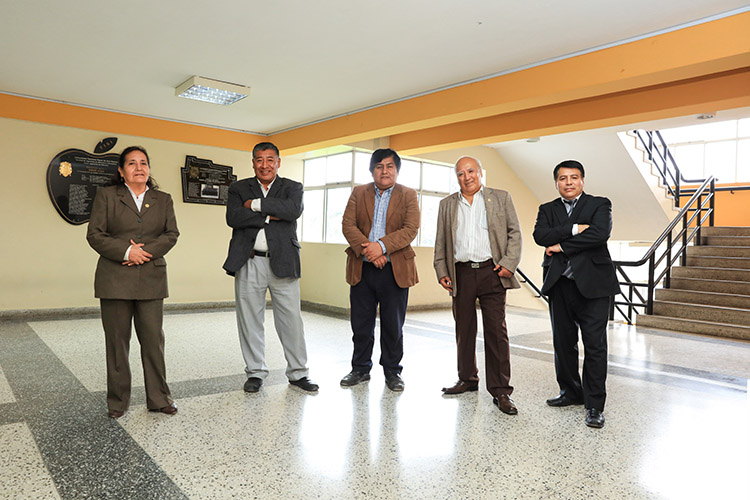 La Universidad Nacional Mayor de San Marcos a través del Vicerrectorado de Investigación y Posgrado (VRIP) promueve la investigación interdisciplinaria con calidad en el marco de la Ley Universitaria, Ley N° 30220, el Estatuto de la Universidad y el Plan Nacional Estratégico de Ciencia, Tecnología e Innovación para la Competitividad y el Desarrollo Humano (PNCTI) de CONCYTEC para el desarrollo del país. Por otro lado, el Documento de Lineamientos de Política de Grupos de Investigación del VRIP fomenta la creación de Grupos de Investigación inter-facultativos y transdiciplinarios. En ese sentido, docentes investigadores de las Facultades de Ciencias Matemáticas, Ingeniería de Sistemas e Informática y Medicina han decidido proponer la creación del Grupo de Investigación en "Tecnologías de la Información con aplicaciones en las ciencias biomédicas" (Information Technologies in Biomedical Science – BIOMEDICAL-IT) para desarrollar actividades de investigación, desarrollo e innovación. Además, de docentes de esas facultades también integrarán el grupo alumnos, egresados e invitados de otras universidades. Una de las funciones del GI es contribuir a la investigación formativa a nivel de pre y posgrado y servir de guía o soporte para la realización de Tesis.
Fingerprint
Dive into the research topics where Tecnologías de la información con aplicaciones en las ciencias biomédicas - information technologies in biomedical science - "biomedical-it" is active. These topic labels come from the works of this organization's members. Together they form a unique fingerprint.
Network
Recent external collaboration on country level. Dive into details by clicking on the dots.

Laredo, A., Concepcion, L. P. &

Mamani-Macedo, N.

,

2021

,

Proceedings of the 5th Brazilian Technology Symposium - Emerging Trends, Issues, and Challenges in the Brazilian Technology.

Iano, Y., Arthur, R., Saotome, O., Kemper, G. & Borges Monteiro, A. C. (eds.).

Springer Science and Business Media Deutschland GmbH

,

p. 505-513

9 p.

(Smart Innovation, Systems and Technologies; vol. 202).

Research output: Chapter in Book/Report/Conference proceeding › Conference contribution › peer-review

Zegarra-Vásquez, J. C. &

Mamani-Macedo, N.

,

2021

,

Proceedings of the 5th Brazilian Technology Symposium - Emerging Trends, Issues, and Challenges in the Brazilian Technology.

Iano, Y., Arthur, R., Saotome, O., Kemper, G. & Padilha França, R. (eds.).

Springer Science and Business Media Deutschland GmbH

,

p. 173-180

8 p.

(Smart Innovation, Systems and Technologies; vol. 201).

Research output: Chapter in Book/Report/Conference proceeding › Conference contribution › peer-review

Zegarra-Vásquez, J. C. &

Mamani-Macedo, N.

,

2021

,

Proceedings of the 5th Brazilian Technology Symposium - Emerging Trends, Issues, and Challenges in the Brazilian Technology.

Iano, Y., Arthur, R., Saotome, O., Kemper, G. & Padilha França, R. (eds.).

Springer Science and Business Media Deutschland GmbH

,

p. 153-160

8 p.

(Smart Innovation, Systems and Technologies; vol. 201).

Research output: Chapter in Book/Report/Conference proceeding › Conference contribution › peer-review