organization profile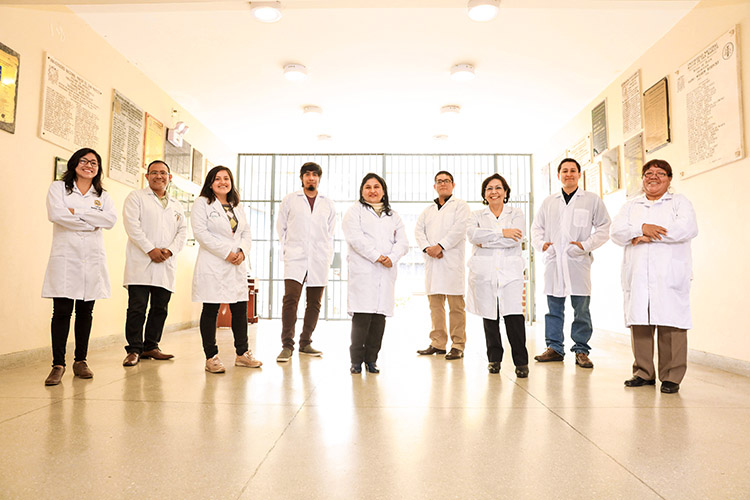 El grupo de investigación "Virología Clínica Molecular inmunopatogénesis y antivirales "es un grupo multidisciplinario de Docentes e Investigadores especializados de la Universidad Nacional Mayor de San Marcos , Universidad Nacional de Ingeniería (UNI) y Universidad de Sao Paulo Brasil. Pretende generar conocimientos e investigación aplicada orientada a las necesidades del sector salud a nivel nacional y fomentar la formación del recurso humano de pregrado y posgrado adiestrando en manejo de virus y cultivos celulares como competencias especializadas en salud y prevención . El grupo ha desarrollado proyectos de Investigación en áreas relacionados con el virus Dengue, Virus linfotropico humano –HTLV, hepatitis B, parvovirus de impacto clínico y últimamente los proyectos de antivirales contra Dengue financiado por INNOVATE-Perú, nos ha demostrado ser necesario la participación de investigadores altamente capacitados en extracción de compuestos contra el virus de macro y microalgas , y en la producción y suministro de microalgas, para la obtención de antivirales .En la investigación de virología hemos realizado combinación de herramientas básica y molecular con aspectos clínicos epidemiológicos que buscan un mejor método de caracterización. Instituciones Públicas con que se relaciona.-Instituto Nacional de Salud, Instituto Nacional de Innovación Agraria, Centro Internacional de la Papa, Universidad Nacional del Centro del Perú-Estación el Mantaro, Colegios Nacionales de Educación Secundaria - Departamento de Lima, Departamento Cerro de Pasco, Pozuzo. Relación Internacional: Universidad de Sao Paulo, Brasil- Instituto de Ciencias Biomédicas e Instituto de Medicina Tropical (Área de Inmunovirología). Premios Académicos.- Reconocimiento a los Investigadores con Publicaciones Científicas 2014. Área A. Ciencias Básicas. Dra. Egma Mayta Huatuco. Viajes Internacionales.-Brasil: Asistencia a los Congressos Internacionales Brasileiro de Virologia desde el 2000 hasta la actualidad, en diversos Estados de Brasil, así en 2017 se participará en el XXVIII Congresso, del 6 a 10 de setiembro de 2017. Estado de Belo Horizonte.MG. Universidad Federal de Minas Gerais, con motivo de presentar los trabajos de investigación que se desarrolla con el grupo de investigación.
Fingerprint
Dive into the research topics where Virología clínica molecular inmunopatogénesis y antivirales is active. These topic labels come from the works of this organization's members. Together they form a unique fingerprint.
Network
Recent external collaboration on country level. Dive into details by clicking on the dots.


Llanos, C. D., Punil, R.,

Mamani, E.

, Mormontoy, C. & Bardales, J. A.,

Oct 2020

,

In:

Microbiology Resource Announcements.

9

,

40

, e00969-20.

Research output: Contribution to journal › Article › peer-review